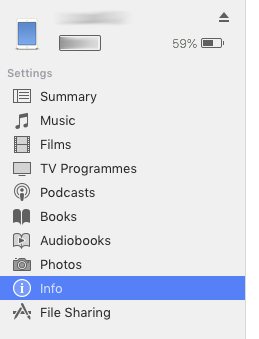 Calendar – unable to delete calendars (synchronization problem?)
I have an issue with the Calendar app where old calendars that I previously deleted reappear every time I sync (via USB and iTunes connection) my iPad or iPhone to my Mac.
(I have covered this problem earlier but it turns out that the sync problem is twofold, but luckily I found a solution to why I couldn't sync contacts to iOS devices. J I'm still having trouble syncing the calendars though…..).
What happens is that every time I start the Mac itunes app, connect my iPad (iPhone) with a USB cable, then go to the "Info" section (where you can enable/disable Calendar and contacts sync), I actually see more calendars than there actually are in the Mac Calendars app. It displays calendars that were previously deleted.
What happens when I sync (at least when i chose to sync everything calendars, which I usually do to keep things simple) ALL these calendars appear on my iPad/iPhone.
So I think I need to remove something to make those old calendars disappear. The problem is where the calendar files are and how to delete them. Here's what I've tried so far (without success):
Old calendars on the iOS device?
Assuming the offending calendars are in the iOS device (iPhone or iPad) – as they appear in Mac iTunes when the iOS device is connected; I do the following when the iPad or iPhone is connected (USB cable) to the Mac with iTunes running:
a) in iTunes: disable calendar synchronization
b) when asked if I should keep or delete the calendars already present on the iOS device, I choose to delete them.
c) then I press the "Apply" button to perform the synchronization and changes
d) just to be sure, I eject the iOS device, disconnect the USB cable, then turn it (iOS device) off. About 30 seconds later, I turn the iOS device back on. This is to ensure its caches are cleared and all changes have been set correctly
But no…..
When I turn on the iPhone, connect it to the Mac, and restart iTunes, I still see the old calendars there, so… it's obviously not the iPhone that keeps those files (or they are well hidden in a secret compartment or something).
Old calendars in the Mac Calendar app?
It's now fair to assume that previously deleted calendars are somehow in the Mac Calendar app, even though they are now displayed there, so after making a backup of my calendars (using its menu option "File" – "Export" to export the entire configuration or each calendar individually) I want to reset everything (i.e. factory defaults) and then when I confirm that these old calendars are gone for good, I will re-import my valid calendars….so this is what I've done:
– delete calendar cache
a) Eject (from iTunes) and USB – disconnect the iOS device from the Mac and exit the iTunes app
b) quit the Mac Calendar app
c) delete calendar caches by first opening the following folder: ~/Library/Calendars/
then delete the following three cache files:
Calendar Cache
Calendar Cache-shm
Calendar Cache-wal
d) now restart the Mac Calendar app and you'll only see a few calendars there ("Home" and "Work" I think), but after a few seconds all the calendars reappear, including the ones I deleted, so that doesn't work either. Let's try something else.
– delete all calendar files
Now let's try to completely delete all calendar data so that it is reset to factory settings (i.e. empty):
a) where applicable; eject (from iTunes) and USB – disconnect the iOS device from the Mac and exit the iTunes app
b) quit the Mac Calendar app
c) delete the entire Calendar folder: ~/Library/Calendars/
d) start the Mac Calendar application. You would expect it to show up with only the default (factory preset) calendars, but no! -again ALL calendars appear there (including old ones you deleted in the past) and the ~/Library/Calendars/ is repopulated with all calendar data and cache files.
I therefore conclude that the actual calendar data is not contained in ~/Library/Calendars/ but recovered elsewhere, but where? I obviously need to reset/flush something else to make the Calendar app stop picking up old junk files.
Does anyone have any ideas where and what to do?