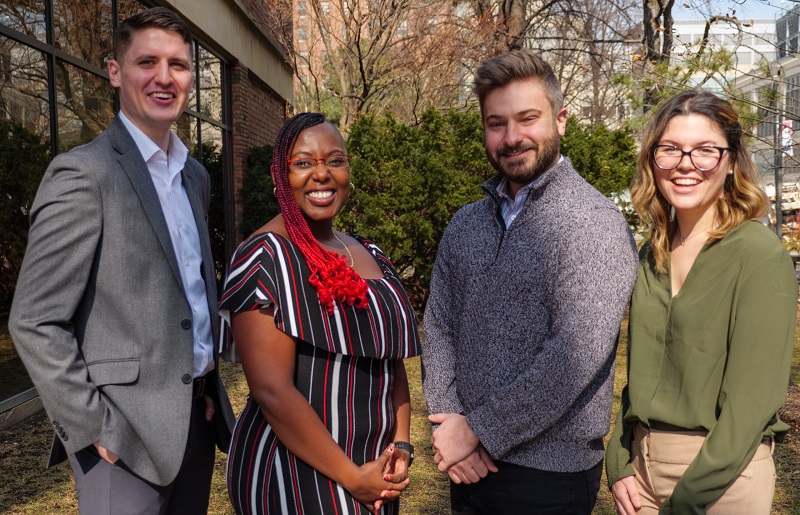 CBC Entrepreneurial Fellows Scholarship Program 2022
Deadline: September 2, 2022
Applications for the Chicago Biomedical Consortium (CBC) Entrepreneurial Fellowship Program 2022 are now open. The program identifies and supports the professional development of young life science researchers who want to develop the skills and experiences necessary to take translational projects from an academic lab to commercialization and potentially a Chicago-based biotech start-up. .
The program exposes fellows to a wide range of real-world experiences at CBC institutions and connects fellows to Chicago's biomedical community.
CBC Entrepreneurship Fellows will gain a network by:
Work with CBC's Managing Director and Associate Director of Entrepreneurship
Partnership with the technology transfer and entrepreneurship offices of their member institutions: NU Innovation and New Ventures Office (INVO), UIC Office of the Vice Chancellor for Innovation and Office of Technology Management (OTM), UChicago Polsky Center
Integration with EF Advisory Board members and industry mentors
Work with university professors and experts from Chicago's larger bioentrepreneurship community
Functions
Work with CBC academic researchers to prepare proposals with translation potential for CBC Fellowship programs and other funding bodies.
Fellows will be exposed to all aspects of drug discovery and early development, including:

Development of investment thesis and competitive positioning,
Development of solid project plans, timelines, project budgets and resource allocations, generation of project mitigation plans, analysis of competitive landscapes, clinical strategies and regulatory strategy.

Interact with Deerfield Management-funded projects through Lakeside Discovery (NU) and West Loop Innovations (UIC) to accelerate the translation of transformative biomedical technologies.
Coordinate intellectual property review of projects with Tech Transfer staff and the Office of Sponsored Research to generate reports on patent status and potential encumbrances.
Work with project team members to ensure the project plan incorporates all necessary regulatory documentation requirements for drug safety, toxicology, and manufacturing of clinical candidates.
Cultivate a culture of drug discovery at CBC universities and beyond by actively participating in CBC-sponsored events, symposia, workshops, and review panels.
Advantages
Very competitive salary with benefits
Funds are available for travel associated with program responsibilities
Office space will be provided and shared with other RUs
Appointments are for 12 months but are renewable for an additional 12 months by mutual agreement
An overview of the early-stage biomedical applications pipeline
An unparalleled network of peers and mentors in the field of bio-entrepreneurship
Eligibility
Recent recipient of MS, PhD, MD, PharmD/PhD or MD/PhD or recently completed a first post-doc in biomedical sciences (biology, molecular biology, biophysics, chemistry, chemical biology or related fields) with a strong interest and passion for driving innovative and transformational biomedical research from the academic laboratory to clinical and ultimately commercial applications.
A broad interest in translational research, with a primary focus on the development of therapies or diagnostics and associated biomarkers.
Prior exposure to contemporary drug discovery/development is desirable, but a deep interest in furthering that exposure is essential.
Strong verbal and written communication, as well as exceptional analytical skills are essential.
Detail oriented with strong organizational and interpersonal skills.
Ability to work independently and independently, but also as a successful member of a team.
Application
The applicant must send
Cover letter (no more than (2) pages) which must include an answer to the questions:

why biotech/ bio-entrepreneurship
why chicagoland
how the EF program will help you with your future career goals
Thesis project and name of the director of the faculty. They encourage applicants to use information from your own background and graduate career. Where appropriate, reference specific, recent advances in the biotech business space that you consider exciting. Include your graduation date or expected graduation date as well as availability to start the scholarship.

Curriculum vitae.
Names, titles and contact details of three references to provide letters of recommendation
All of the documents listed above should be assembled into a single PDF document in the order listed. Name the PDF file with your first and last name (eg Last_First.pdf). Formatting of all documents should be in 11 point font, single spaced, with 0.5 inch margins and standard letter size (8.5″ x 11″). Embedded numbers are acceptable.
For more information, visit Radio Canada Prize.