By providing everything from enhanced diagnostics to therapeutic teddy bears, these companies are changing the way diabetes is treated.
For over 100 years, insulin has revolutionized diabetes care by providing patients with a treatment to help manage the disease.
But there's still no cure, and diabetes continues to impact lives across the globe. In fact, by 2030, the number of adults (aged 20-79 years) affected in the US is expected to grow to 643M, according to the IDF Diabetes Atlas — up nearly 20% from 2021.
It's also one of the costliest diseases in the US to treat: 25% of all healthcare dollars are reportedly spent on caring for diabetes patients, making it the second most expensive chronic disease, just behind heart disease.
While technological advancements — from glucose monitors to insulin delivery devices — have been made over time, there is still ample opportunity for companies looking to disrupt the space with more cost-efficient, impactful solutions. Onalabs, for example, is developing a device to measure glucose via sweat, eliminating the need for constant fingerstick testing for diabetic patients. Diasome Pharmaceuticals is working on a pill form of medication for diabetes care.
Below, we take a look at how companies are unbundling diabetes care, from diagnostics to glucose monitoring devices to educational programs, and more.
Learn more about the space in our Digital Therapeutics Tech Market Map and Digital Therapeutics MVP.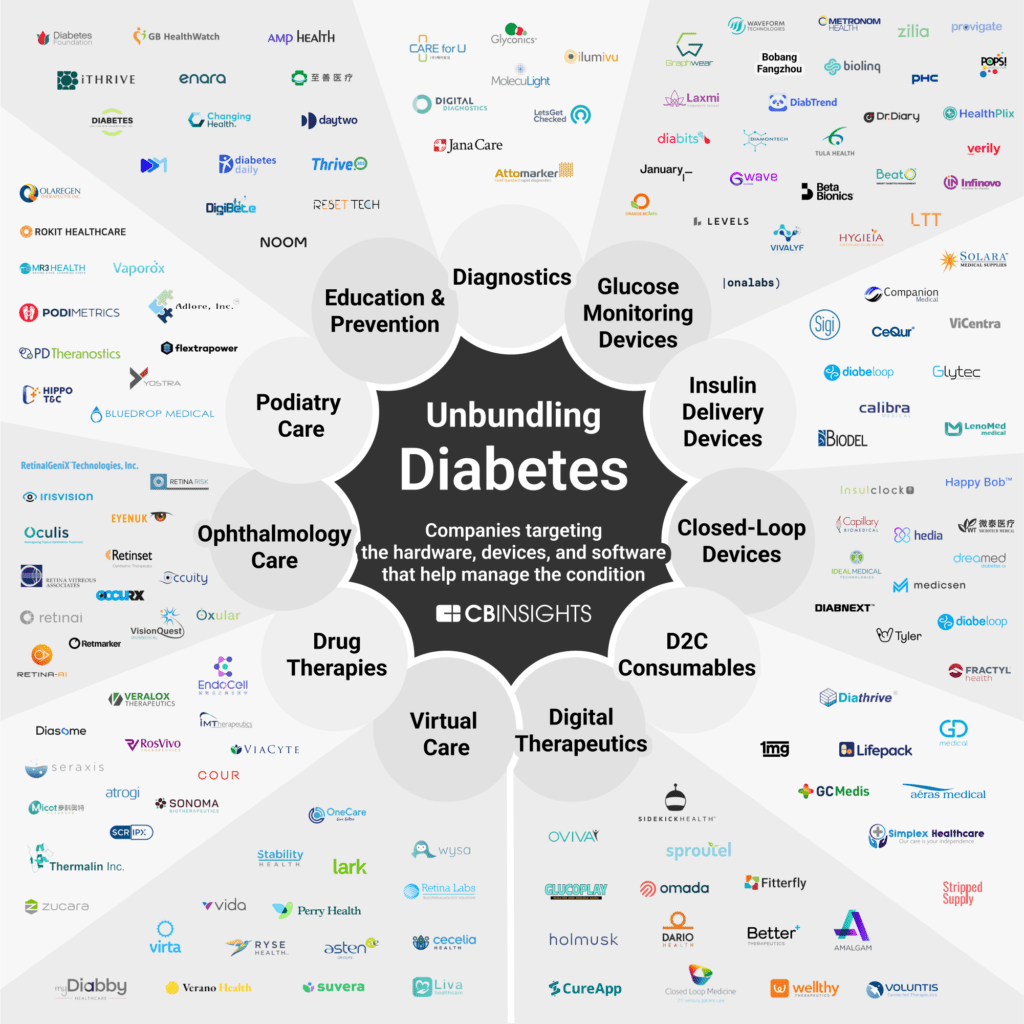 Note: This graphic is not exhaustive of the space. This graphic only includes private companies. Categories are not mutually exclusive.
Category breakdown
Education & Prevention
Companies in this sector provide educational tools that cover medication administration, nutrition, and ongoing care for the management and prevention of diabetic episodes. 
Almost 96M adults in the US have prediabetes, according to the CDC, and 80% of them don't even know they have it. To proactively address this, common preventative measures that are implemented include weight loss programs, nutrition assistance, and preventative monitoring apps.
Using the results of genetic testing as a guide,

GB HealthWatch

develops personalized prevention and treatment plans to combat the disease.
For those with prediabetes as well as type 1 or 2 diabetes, education on lifestyle changes and treatment options has been shown to have a positive impact on clinical outcomes and lower the cost of care. For high-risk individuals, studies have demonstrated that programs related to lifestyle changes reduce the risk of type 2 diabetes onset by more than 50%.
Diabetes Daily

and

Changing Health

develop personalized education plans that incorporate coaching assistance to support disease management. 

Supporting children and young people with type 1 diabetes,

DigiBete

provides extensive education and support tools for the management of the disease. 
Diagnostics
Companies in this category look to expedite and enhance diagnosis for diabetic patients through the use of technologies such as artificial intelligence and infrared light. 
Digital Diagnostics

recently raised $75M in Series B funding. It leverages AI to analyze retinal images to diagnose common diabetic eye ailments. 

Glyconics

has developed a non-invasive handheld device that uses infrared spectroscopy to diagnose diabetes through changes in fingernail biomarkers.
Glucose Monitoring Devices
Diabetic patients need to monitor their blood glucose levels continuously throughout the day. While this has traditionally been performed via finger stick checks, new technology is being developed to automate this process and make it less invasive. 
BeatO

offers connected monitoring devices and an app to help diabetic patients monitor their blood glucose levels in real time and provide them with treatment recommendations. The app employs an AI-powered chatbot to deliver ongoing assistance and treatment reminders.  

Companies such as

DiaMonTech

 and

Vivalyf

develop non-invasive glucose monitoring devices that utilize a range of technologies, including fingerprint analysis, optical scanning, and ultrasonic tagging sensors for blood glucose level monitoring.
Insulin Delivery Devices
Companies in this space develop devices that effectively deliver required insulin doses to diabetic patients in a timely manner.
Insulin delivery methods have evolved over the years, shifting from needles and syringes to automated insulin delivery devices. Often requiring a series of injections over the course of the day, patients with diabetes have welcomed technology that makes the process less invasive and more automated.  
Some companies are even working on approaches to speed up the delivery of insulin.
Biodel

, acquired by

Albireo Pharmaceutical

, developed a new drug formulation and drug delivery method that expedites the delivery of insulin to the blood.
Closed-Loop Devices
These companies support comprehensive diabetes management through combined glucose monitoring and insulin administration solutions. These closed-loop systems take a single, integrated approach to diabetes management.
DreaMed Diabetes

and

Capillary Biomedical

have developed comprehensive management solutions that provide long-term continuous glucose monitoring as well as an algorithm-based insulin delivery system.

Diabeloop

offers a closed-loop insulin delivery system — which originated from an artificial pancreas research program — that utilizes glucose monitoring data to automatically deliver the proper dose of insulin. 
D2C Consumables
Companies in this category provide testing and treatment supplies directly to consumers.
Testing supplies include glucose monitoring devices and test strips for blood samples that can be analyzed to determine dosing needs. 
Digital Therapeutics
Startups in this market utilize evidence-based research to develop software and apps that offer on-demand, personalized treatment options for ongoing diabetes care.
This technology has helped enhance the overall health of diabetic patients and their ability to manage the disease via increased engagement, improved treatment compliance, and modified behaviors.
Platforms such as Fitterfly

 and

Omada Health

provide digital therapies that support nutrition, fitness, and behavioral changes for improved diabetes management. 
Recent advancements have made these therapies more engaging for children and adults.
Sproutel partnered with the Juvenile Diabetes Research Foundation to help upgrade Rufus, an interactive teddy bear that has been supporting pediatric diabetes patients for over 25 years. The latest edition has both a companion app as well as a virtual diabetes care kit option to provide the child and their family with ongoing diabetes care education.

Companies like

Sidekick Health

and

Glucoplay

develop clinically validated gamified therapies to promote, monitor, and reward healthy behavior modifications.  
Virtual Care
Virtual care became more heavily utilized amid the Covid-19 pandemic, and diabetic patients have benefitted from this service. Many of the major telehealth platforms including AmWell and Teladoc Health have established diabetes-specific virtual care programs. Even major retailers like Walmart have thrown their hats into the ring. Beyond these corporations, there are several companies garnering attention.  
Stability Health

develops personalized diabetes treatment plans that incorporate virtual care and a personal health coach. It raised more than $7M just a couple of months ago.

Vida Health

and

Ryse Health

provide a combination of video conferencing and coaching via a mobile app to support ongoing diabetes care. Since the start of 2021, Vida Health has raised $110M in Series D funding and Rysa Health has raised more than $3M in seed funding.   

Lark Health

specializes in chronic disease virtual care for both diabetes prevention and care. It offers a coaching program focused on nutrition and activity modifications.
Drug Therapies
Companies in this category are targeting new ways to treat diabetes through the use of medication and drug delivery options.
The difficulty of conducting diabetes management tasks, such as finger pricks for testing and needle injections for medication delivery, has led companies to work toward reducing or eliminating the need for these invasive approaches. 
RosVivo Therapeutics

is developing a new treatment that uses microRNA technology to reverse the pathology of type 2 diabetes. Its goal is to prevent diabetic patients from experiencing common long-term complications.

Seraxis

,

which recently received $40M in Series C funding from investors including

Eli Lilly and Company

, is developing a technology to replace pancreatic cells to regulate the glucose levels of patients.  

Cour Pharmaceuticals

is developing a therapy to combat type 1 diabetes – it reprograms the immune system to prevent the destruction of affected cells in diabetic patients. The company raised $30M at the beginning of September.
Ophthalmology Care
These startups provide care for eye complications that are commonly associated with diabetic patients, most notably diabetic retinopathy, glaucoma, and cataracts.  
Diabetic retinopathy is a leading cause of blindness in American adults. The number of individuals suffering from the disease is projected to reach over 11M by 2030, according to the National Eye Institute.
Companies like

Oxular

are developing long-lasting treatments for diabetic macular edema, which affects 1 in 15 people with diabetes, according to a 2017 study in The Lancet Diabetes & Endocrinology.

OccuRx

is developing therapeutics to address retinal fibrosis, which is highly prevalent in diabetic patients. The company raised nearly $11M in Series B funding this past September. 

Companies like

Retinai

are developing tools to proactively identify diabetic retinopathy through retinal image analysis as well as personalize treatment plans based on these findings.
Podiatry Care
These startups develop technologies that target either onset prevention or improved care for diabetic foot conditions. 
Studies indicate that between 15% and 25% of diabetic patients will experience diabetic foot ulcers over the course of their lifetime. Research has also revealed that, in the US alone, diabetic foot care adds anywhere from $9B to $13B to the total cost of care for diabetic patients.
Podimetrics

has developed an intelligent, at-home mat that monitors foot temperature and helps predict the onset of foot ulcer development. Since March 2022, the company has raised $45M in Series C funding and partnered with the American Diabetes Association to prevent foot amputations.  

PD Theranostics

uses AI-based imaging analysis to support clinical decision-making related to foot ulcers.

Treatment-focused

Adlore

addresses common diabetes complications related to the lack of blood flow to extremities. Its boot technology utilizes heat and electric pulse stimulation to enhance blood flow to ulcers as well as a feedback sensor to monitor treatment and foot function.    
If you aren't already a client, sign up for a free trial to learn more about our platform.