Market Map
From Meesho to Bolt to Noom, the latest retail & consumer companies to hit $1B+ valuations reflect current trends in personalization, wellness, and speed.
Modern-day retail is at an inflection point. Brands have faced struggling physical storefronts, massive debt, and inefficient operations for years, but these issues have been exacerbated by the pandemic, causing many retailers to file for bankruptcy in 2021.
free report: the New Retail & Consumer Unicorns Of 2021
Get the market map that visualizes the 2021 entrants into the retail & consumer unicorn club.
However, the pandemic has also created new opportunities. Consumers have rapidly adopted new forms of shopping online, driving demand up for categories like food, personalized health, and wellness.
Below, our market map visualizes the 2021 entrants into the retail & consumer unicorn club. We also outline how the new unicorns illustrate the rise in core demands for health & wellness, convenience, and personalized experiences.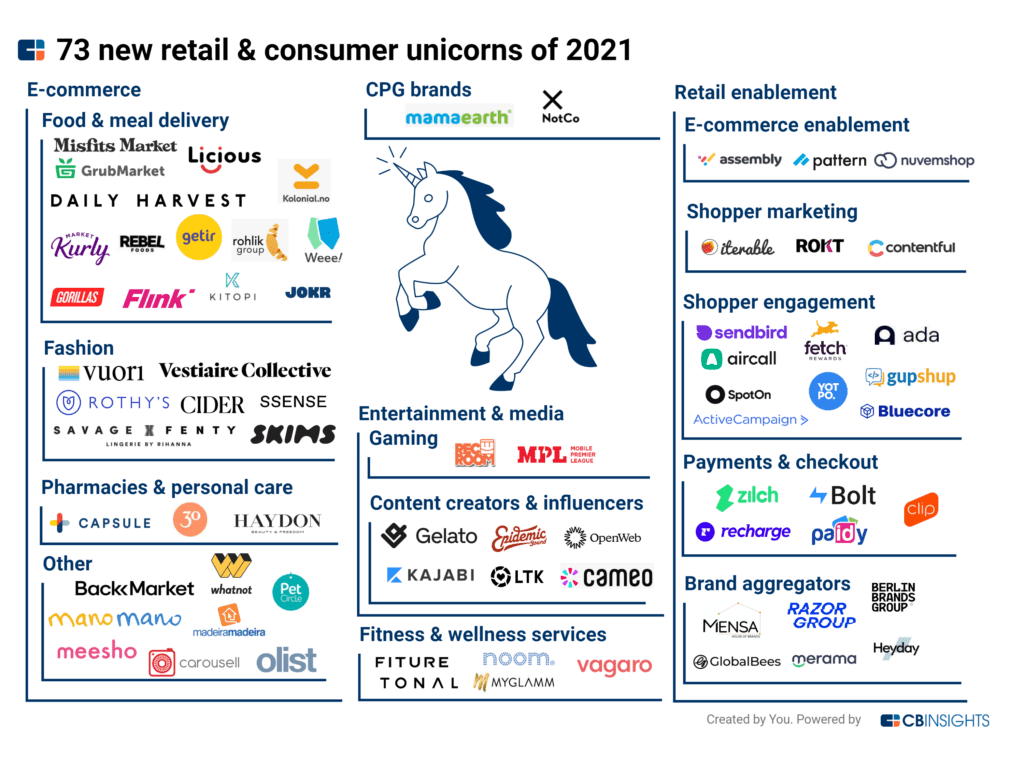 This market map consists of active companies that reached $1B+ valuations in 2021. Categories are not mutually exclusive, and companies are mapped according to primary use case.
Our analysis includes consumer entertainment companies and those that have a primary use case to enable retail, such as shopper marketing. We excluded supply chain and logistics, restaurants and cafe retail chains, and companies with core service areas spanning many industries. We also exclude horizontal services, such as cybersecurity or customer data platforms.
KEY TAKEAWAYS
Ultrafast growth in ultrafast delivery
As consumer preferences shift away from physical retail and the pandemic lingers, startups in the grocery and meal delivery space are gaining momentum. The segment saw 14 new unicorns born in 2021, up from only 4 in 2020.
Ultrafast delivery — which occurs within 15-20 minutes of order placement — is becoming one of the fastest growing categories in the food & beverage delivery space.  This appeals to customers who are willing to trade variety for immediacy. More than half of the new food delivery unicorns emphasize ultrafast delivery as part of their offerings.
Retail enablement solutions come into focus with rise in online shopping
As more retailers move online, solutions that help them reach consumers in new digitally enabled ways are crucial. Over one third of the new unicorns provide retail enablement technology solutions. Shopper marketing (Contentful) and payment & checkout (Bolt) solutions in particular have gained success.
Health & wellness continues to be area of interest for consumers
Eight of the new unicorns are focused on health and wellness from plant-based foods (Daily Harvest, NotCo) to connected strength training equipment (Tonal) to personalized approaches to treating migraines (Thirty Madison) and prescription delivery (Capsule).
CATEGORY BREAKDOWN
E-commerce
This category includes marketplaces and platforms that primarily operate online. 
Food & meals: This subcategory covers a variety of online grocery and convenience business models, such as ultrafast delivery. Grocery delivery startup Weee!, which focuses on the Chinese American market, is one of the most well-funded in the category with over $411M in total funding and a $2.8B valuation. This category also includes startups focusing on subscription-based grocery services (Misfits Market, Daily Harvest), a marketplace connecting farmers and customers (GrubMarket), online grocery retailers (Licious, Oda), ghost kitchens (Kitopi), and on-demand meal delivery (Kurly, Rebel Foods). 
Fashion: These e-commerce startups sell apparel, shoes, and accessories. For example, Rothy's sells shoes made of sustainable materials, while Skims and Savage x Fenty are celebrity-founded lingerie brands. Other fashion e-commerce companies include online luxury brand SSENSE, men's active lifestyle brand Vuori, and fast fashion company Cider. 
Pharmacies & personal care: This category covers online pharmacies and e-commerce players focused on self-care and grooming. Major China-based beauty retailer Haydon offers an immersive in-store experience. Online pharmacy Capsule, which offers same-day prescription delivery, raised a $300M private equity round in April 2021. Meanwhile, Thirty Madison, parent company to men's health products such as Keeps, is beginning to offer telemedicine and personalized treatment services.
Other: Outside of the segments above, the e-commerce category also includes companies like refurbished electronics marketplace Backmarket, live shopping platform Whatnot, and home improvement marketplace ManoMano.
Entertainment & media
Gaming: This category covers mobile games developers and studios. Mobile Premier League is an eSports platform, while Rec Room is a virtual reality, online video game. 
Content creators & influencers: This sector includes companies serving independent creators from vloggers to influencers to writers. Startups here focus on content creation, fan interaction monetization, and financing solutions. Examples include personalized video app Cameo, music sourcing marketplace media Epidemic Sound, and content creation tools platform Kajabi. 
CPG brands
This category comprises consumer brands that distribute primarily through retailers. It includes AI-powered NotCo, which produces plant-based milks, eggless mayo, and other products. The startup raked in $235M in Series D funding from Tiger Global Management and others in July 2021, bringing its valuation to $1.5B. Meanwhile, baby and mother care brand Mamaearth reached unicorn status with its $80M Series D round in December. The company plans to use the funding to expand its portfolio of personal care DTC brands. 
Fitness & wellness services
Startups in this category focus on fitness, wellness, and beauty. Fitness solutions range from connected fitness equipment (Tonal) to subscription services for tracking behavioral and lifestyle improvement (Noom). In beauty, Vagaro offers salon, spa, and fitness business management software. Meanwhile, MyGlamm provides an on-demand beauty service marketplace and offers its own line of beauty and personal care products. The company raised $150M in November 2021 from Amazon and Bessemer Venture Partners, among others. 
Retail enablement
This category features companies that enable retail sales across channels. 
E-commerce enablement: This subcategory includes accelerators Pattern and Assembly, as well as Brazil-based e-commerce platform Nuvemshop.
Shopper marketing: Startups in this sector provide marketing technologies that aim to drive customer purchases. This includes Rokt, a platform that sends personalized offers to the customer at the moment of payment. Meanwhile, Iterable focuses on cross-channel marketing automation. The company raised $200M of funding in June 2021, bringing its valuation to $2B. 
Shopper engagement: These startups focus on engaging and building relationships with customers. For example, Aircall is a cloud-based call center and phone system that can create local numbers and set up interactive voice-response directories. Meanwhile, Ada Support uses AI to automate chatbots for customer support. Other examples of shopper engagement include chat messaging (Sendbird, Gupshup), personalization and marketing automation (Active Campaign, Bluecore), rewards (Fetch Rewards), and customer reviews (Yotpo). 
Payments & checkout: Startups in this category enable retailers to accept online payments. This includes solutions for subscription management (ReCharge), installment loans or buy now, pay later (Zilch, Paidy), and a smartphone credit card reader (Clip). Meanwhile, Bolt offers one-click checkout technology and provides data and insights to merchants. 
Brand aggregators: This category includes holding companies that buy and scale DTC brands as well as those that focus on Amazon third-party marketplace brands. For example, US-based Heyday integrates its acquired brands into a larger platform to manage marketing and sales analytics, production, and retail channels. The company is one of the most well-funded in the category, with $800M in total disclosed funding. Meanwhile, Amazon brand acquirers Razor Group and Berlin Brands Group are focused on European markets. 
If you aren't already a client, sign up for a free trial to learn more about our platform.