Today, around $4.3T worth of global commerce happens online. Stripe is intent on growing that number.
As businesses and consumers become more comfortable using credit cards online, the proportion of US commerce that takes place online has steadily increased over the last 20 years.
This growth has created major opportunities in the payments space, and companies like Stripe — a payments unicorn valued at a massive $36B — are hungry to capitalize on them.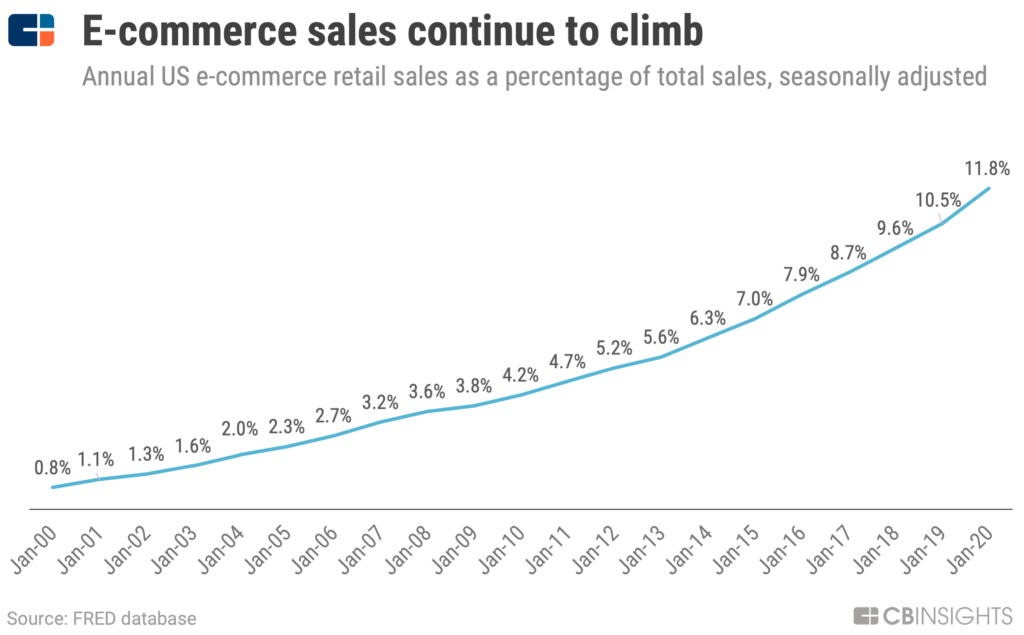 Brothers Patrick and John Collison founded Stripe in 2010 in an attempt to gain share in online payments, a then-nascent market with seemingly boundless growth opportunities.
Specifically, the Collisons aimed to more seamlessly connect online businesses and payment processors, allowing more businesses to accept online payments.
"Stripe really did come about because we were really appalled by how hard it was to charge for things online." — John Collison
To help enable online commerce, Stripe is building a suite of APIs that allow developers to implement its payment capabilities. These APIs handle everything from acceptance and processing to settlement and reconciliation, while ensuring compliance and security.
Stripe is also pursuing some more unexpected offerings, including resources to help companies build their own internal analytics tools, and Stripe Atlas, which helps entrepreneurs create US-incorporated businesses in minutes.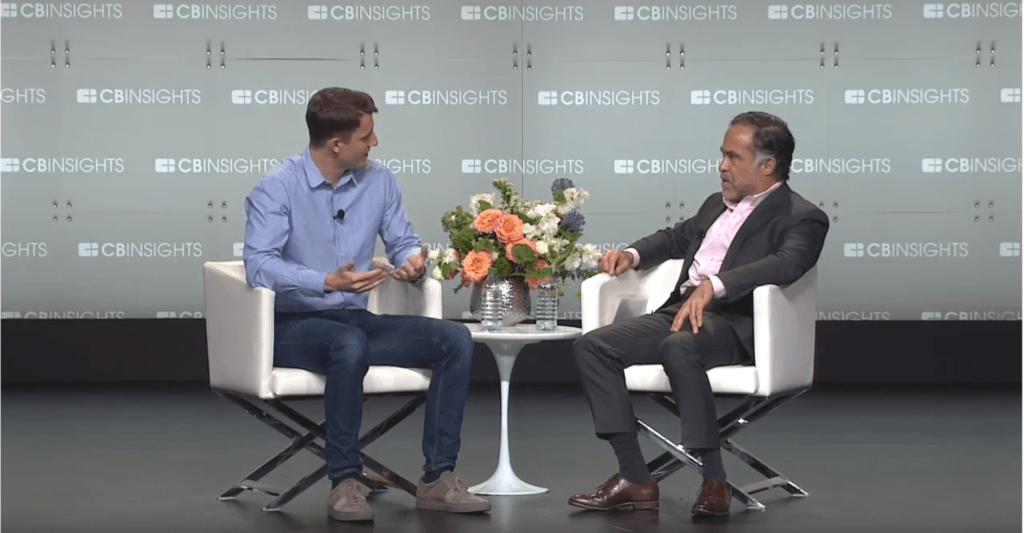 In an interview at CB Insights' 2019 Future of Fintech conference, Stripe CPO William Gaybrick indicated that businesses are more constrained by developer resources than by capital.
The company's strategy also includes deference to developers, as well as a focus on directly serving developers who build websites and applications using Stripe's product. Stripe's early success in acquiring customers was largely due to its mass appeal to the developer community.
Over the last decade, Stripe has expanded its platform beyond payments processing to handling more complex marketplace transactions through Stripe Connect, while also offering complementary services to help facilitate online commerce, drive growth for customers, and expand the funnel of internet businesses globally.
As a result of its product innovation efforts, Stripe has seen explosive growth in product adoption and valuation. Today, it works with companies in over 120 countries spanning every industry, company size, and business model. And the rise in e-commerce sales due to the Covid-19 pandemic has only added to Stripe's growth rate.
Stripe has broadened its product offerings across the entire payments stack. In April 2020, the company raised $600M from investors including Sequoia, GV, Andreessen Horowitz, and General Catalyst at a $36B valuation. And Stripe's target market includes both small startups and Fortune 500 giants looking for payments services.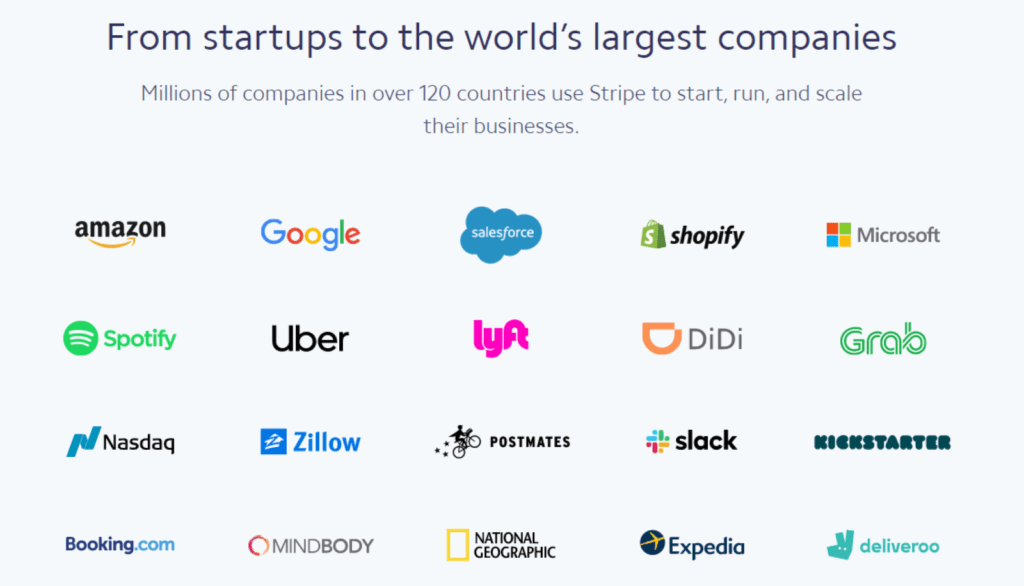 Source: Stripe
In this report, we dive into Stripe's unique strategy, growth trajectory, product set, and where the $36B payments giant sees the global online commerce market heading next.
TABLE OF CONTENTS
A decade of online payments innovation
PayPal and Square emerge as leaders in the payments space
'PayFac' technology simplifies underwriting and onboarding merchants
Expanding product suites: Stripe vs. Square
Stripe's business strategy: How the $36B unicorn sets itself apart
Focus on developers
How Stripe makes money
Stripe's market opportunity
Stripe's valuation, funding, and investor history
Company leadership and board members
How Stripe's product suite feeds into its ultimate goals
Goal 1: Broadly enable online commerce

Online and offline payments
Fraud prevention tools

Goal 2: Support merchant partner growth

Stripe Connect and billing services
Virtual card issuance
Business lending and corporate cards

Goal 3: Grow the internet economy

Stripe Atlas and Stripe Sigma reduce barriers to new business creation
Stripe's recent strategic initiatives
Stripe's M&A mandate

Empower developers
Support new lines of business
Promote internet-focused entrepreneurship

Stripe is ramping up its private market investments

International expansion
Developer support

Expansion into emerging markets
More international expansion
Product innovation
Investment activity
The road ahead
A decade of online payments innovation
Accepting online payments used to be a complicated undertaking.
Typically, when a company wanted to accept payments online, it had to set up a merchant account — a complex process involving legacy infrastructure and manual tasks that could take days or even weeks.
This process involved hurdles like regulations, fees, compliance standards, and payment card issuers — all of which became increasingly complex for international transactions. Additionally, the company had to underwrite risk and was on the hook in the event of fraud or returned items.
Online merchants also faced challenges around verifying the buyer's identity with "card-not-present" transactions. This risk is reflected in processing fees, which are higher for online transactions.
As merchants increasingly turned to e-commerce, new companies have attempted to streamline the historically challenging process of accepting credit cards online.
PayPal and Square emerge as leaders in the payments space
PayPal was the first major company to pioneer a new online payments method for budding e-commerce sites like eBay, which previously relied on checks and money orders. In 2000, PayPal launched business accounts, allowing businesses to accept unlimited credit card payments with a standard 2.9% + $0.30 rate per transaction.
Many leading tech companies — including Google (Checkout), Yahoo (PayDirect), and Microsoft (Passport) — tried to compete with PayPal to gain a foothold in the online payments market, but ultimately shuttered these product lines in the mid-2000s.
Braintree, a Chicago-based payment infrastructure company founded in 2007, aimed to replace the traditional model where merchants used different providers for a payment gateway and a merchant account. The company was ultimately acquired by PayPal in 2013, and now represents a sizable chunk of its merchant business.
In 2009, a decade after PayPal started offering online payments, San Francisco-based startup Square brought payments innovation to the point-of-sale, allowing businesses with smaller transaction volumes to accept card payments with its card reader and mobile phone card reader.
Stripe also came on the scene that same year, offering a new approach to the payments ecosystem.
Square has since expanded its offerings to standalone, integrated point-of-sale terminals, as well as a broader ecosystem of applications and services such as lending (Square Capital), payroll services (Square Payroll), rewards (Square Loyalty), a debit card (Square Card), and many others.
'PayFac' technology simplifies underwriting and onboarding merchants
One key catalyst for online payment innovation was the introduction of the Payment Facilitator, or "PayFac," in 2010.
The PayFac model dramatically simplified the merchant onboarding process for companies like Stripe, Square, and PayPal by letting them leverage a "master" merchant account rather than applying for their own.
This allowed companies like Stripe — one of the first PayFacs — to quickly underwrite and onboard new merchants. Payments companies assumed risk for losses associated with chargebacks, fraud, KYC, or AML, while also providing support, dispute management, and reporting.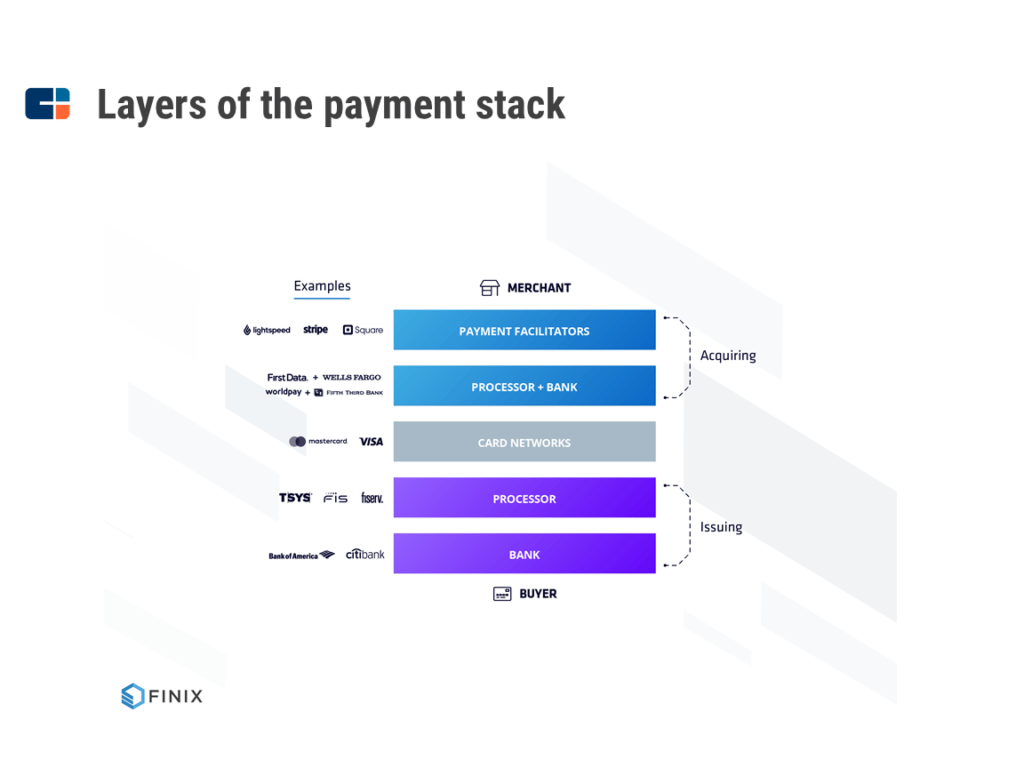 Source: Finix
expanding product suites: Stripe vs. Square
In the same way that Square built a payment-centric ecosystem for brick-and-mortar SMBs and micro-merchants, Stripe has reinvented online payment acceptance.
Now both companies have moved beyond payments and built new businesses that serve a range of needs for small businesses.
Source: Square
Just as Square started with micro-merchants and moved upmarket, Stripe has innovated on its platform to expand its product offerings:
Stripe Connect can handle more complex marketplace transactions.
Stripe Billing optimizes subscription and invoice management.
Stripe Payouts and Stripe Issuing facilitate the movement of money with instant cashouts for gig economy workers and virtual card issuance, respectively.
Stripe Atlas (business incorporation tool) and Stripe Sigma (business analytics and reporting) can help simplify business operations.
Stripe Treasury helps platforms offer embedded banking-as-a-service features.
Stripe Climate allows businesses to direct part of their revenue toward carbon removal projects.
A selection of Stripe's products. Source: Stripe
Stripe's business strategy: How the $36B unicorn sets itself apart
focus on developers
Despite competing efforts from PayPal and others, the customer experience for businesses wanting to accept payments online can still involve difficult onboarding, complex integrations, and challenges around supporting multiple payment options.
To set Stripe apart, the Collison brothers opted to take a developer-first approach.
Historically, the CFO was responsible for choosing a company's payments provider and processing software. But the Collison's felt strongly that the future would center on developers, who would be more involved in the vendor selection process.
As a result, they created a way for businesses to accept payments online with only a few lines of code, appealing to developers with the promise of a simple integration. By working with Stripe, businesses could offload several burdens associated with setting up online credit card payments — including payment gateways, credit card storage, PCI compliance, and managing bank relationships — without going through the arduous process of setting up a traditional merchant account, thanks to Stripe's PayFac technology.
"We wanted it to be extremely simple to integrate. You should be able to start charging credit cards immediately. There shouldn't be any latency. You shouldn't have to talk to anybody. The information you have to give shouldn't be pages long… Google Checkout and PayPal are these confusing things, and we wondered why they hadn't solved these issues." — Patrick Collison
By focusing on developers, Stripe replaced a lengthy enterprise sales cycle with a direct model that allowed rapid customer adoption without the burden of relying on an expensive sales force. Early customer acquisition came in large part from the buy-in of online developer communities like Github and Stack Exchange. And although Stripe's go-to-market strategy has been refined over the years, it's still heavily focused on developer communities.
How Stripe makes money
How much Stripe makes is directly related to the fees it charges its customers. While those fees vary based on payments volume and which bundle of services a customer buys, Stripe's pricing structure has been consistent since the company launched.
Stripe's standard structure is 2.9% + 30¢ per successfully executed payment transaction. Other services like Payouts, Billing, Connect, Radar, and Terminal, carry additional costs.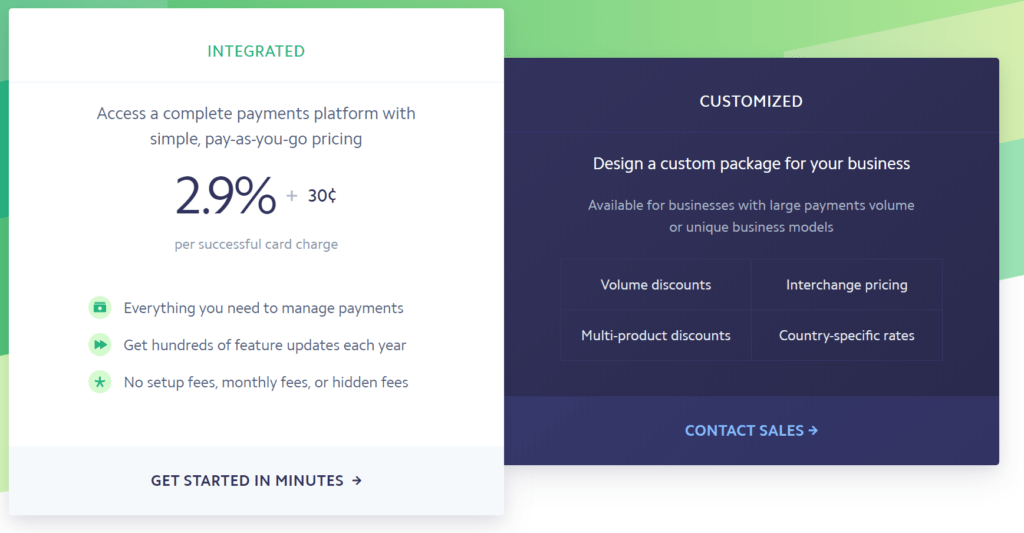 Source: Stripe
Stripe's bottom line is what remains after bank service fees, which are often up to 2.5% on payment volume.
While Stripe is notoriously cryptic when it comes to its financial metrics, the company claims its margins are superior to those of its industry peers. With a direct distribution model unencumbered by legacy sales and infrastructure costs, Stripe's margins are likely closer to Adyen's (~55%) than Square's (20%).
Despite its benefits, Stripe's PayFac model also means that the company absorbs more merchant risk by serving as a master merchant account, and that it's responsible for downside risk in the event of chargebacks and fraud.
Additionally, as Stripe moves into new product verticals like lending and corporate cards, it exposes itself to credit risk and an uncertain interest rate environment.
Stripe's market opportunity
Stripe is focused on capturing a growing share of future payments volume in an increasingly internet-based economy.
The global e-commerce market reached almost $4.3T in 2020, according to eMarketer's estimates, and Stripe states that only around 3% of total commerce occurs online — suggesting it thinks there's plenty of room for growth in this high-value market.
Stripe's processing volume continues to grow year over year. Despite the company's limited transparency on internal metrics, Stripe said it is processing "hundreds of billions of dollars of transactions a year" as of late 2019. And although estimates of how many businesses use Stripe vary, the company is reported to have more than 2M customers.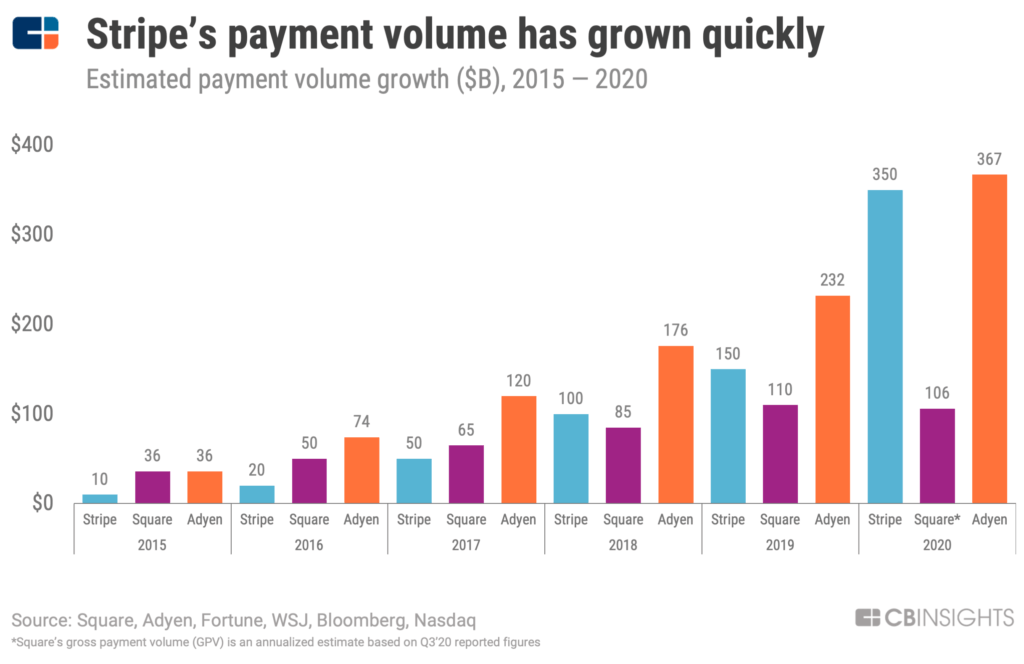 Stripe's valuation, funding, and investor history
Stripe raised seed money from Paul Graham and Y Combinator in June 2010, thanks in part to the Collison brothers' successful 2007 launch of their first company Auctomatic (which they sold in 2008).
Stripe went on to raise a seed round from Sequoia Capital, Andreessen Horowitz, SV Angel, and PayPal founders Peter Thiel and Elon Musk in 2011. The company reached unicorn status in January 2014 at a $1.8B valuation following its $80M Series C. Most recently, it raised $600M last April — bringing its total disclosed funding to almost $2B — at a $36B valuation.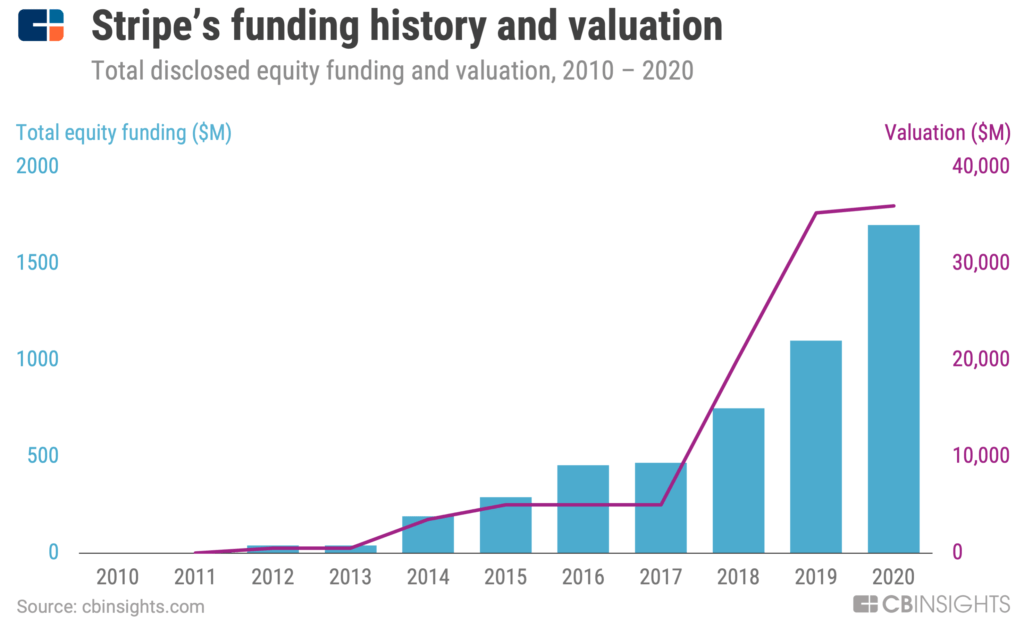 Despite its big valuation, Stripe has been relatively reserved in its fundraising compared to some of its unicorn peers. Patrick Collison has said of the company's approach to raising money:
"We are lucky in that we've been generating revenue from the start and have never been in the position where we had to raise money. It's more about looking a year or two ahead and deciding if we want to stay on the current track or go big on some things."
Stripe has attracted a mix of investors, including strategic investments from key players in payments and banking.
Several big-name venture capital firms — Andreessen Horowitz, Sequoia, Founders Fund, and General Catalyst among them — invested early, and have continued to participate in follow-on funding rounds to the company. Thrive Capital, Khosla, Kleiner Perkins Caufield & Byers, and Redpoint also participated in early fundraising rounds. As Stripe started to grow internationally, it attracted investment from large financial institutions like Visa and American Express Ventures, while Sumitomo Mitsui helped it expand into Japan. In 2016, the company took out a $250M line of credit from Barclays, Goldman, JPMorgan Chase, and Morgan Stanley.
Tiger Global, DST, and several other later-stage strategic investors have participated in later funding rounds as the company has expanded globally.
Stripe raised $600M in 2020 at a $36B valuation — below its publicly traded peers, Square ($100B+) and Adyen (~$60B). However, Stripe has reportedly been given a valuation of around $115B by investors trading on the secondary market.
Despite Stripe's growing valuation, the company's management maintains that it has no imminent plans to go public.
Company Leadership & Board Members
Stripe has assembled a leadership team with several industry veterans. Patrick Collison is the Director of the Board and John Collison is a board member.
The board also includes:
Sequoia Capital partner Michael Moritz (joined the board in 2011)
Michelle Wilson, formerly general counsel at Amazon (2018)
Jonathan Chadwick, former CFO of VMware, Skype, and McAfee (2018)
Diane Greene, former CEO of Google Cloud and co-founder of VMware (2019)
Christa Davies, CFO at Aon plc (2021)
Mark Carney, former governor of the Bank of England (2021)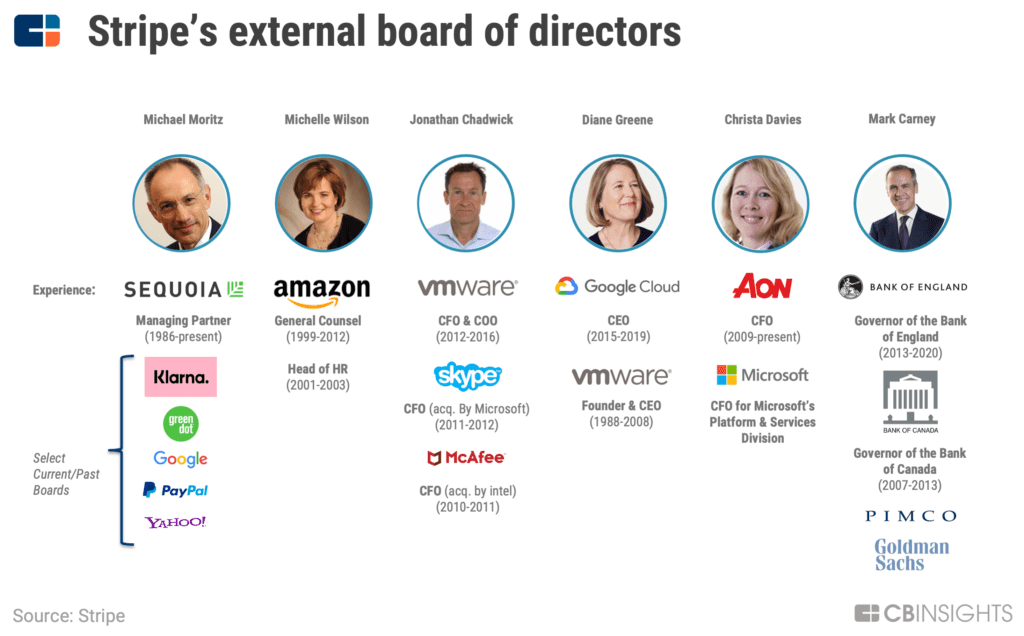 In total, Stripe spans 14 global offices employing more than 2,500 people around the world.
Notably, the company embraces remote work: in May 2019, it announced its fifth remote engineering hub, accommodating the vast majority of available engineer talent living outside its other hubs in San Francisco, Seattle, Dublin, and Singapore.
As Stripe has grown, it's brought in a number of new executives to scale the business internationally, launch and manage new products, and expand their respective teams. A few key members of the executive team include:
Claire Hughes Johnson, who has been the COO since 2014.
Will Gaybrick, who joined Stripe in 2015. He was previously at Thrive Capital, which led Stripe's Series C round back in 2014. Gaybrick is Stripe's chief product officer and head of payments.
David Singleton, who joined Stripe in 2018 as the CTO. He was previously VP of engineering at Google.
William Alvarado, who has served as the chief business officer since 2011. He was the fifth employee at the company.
Ethan Yeh, who joined in 2015 to run data science. Previously, he was at Twitter and the World Bank.
Mike Clayville, who joined in 2020 as the chief revenue officer. He was previously VP of commercial sales and business development at Amazon Web Services (AWS).
Dhivya Suryadevara, who joined in 2020 as the chief financial officer. She was previously CFO at General Motors.
How Stripe's product suite feeds into its goals
Stripe has continuously innovated in its product offering, expanding into new business lines and customer segments. Fundamentally, Stripe's products and strategic initiatives fall under 3 main goals:
Broadly enable online commerce
Support merchant partner growth
Grow the internet economy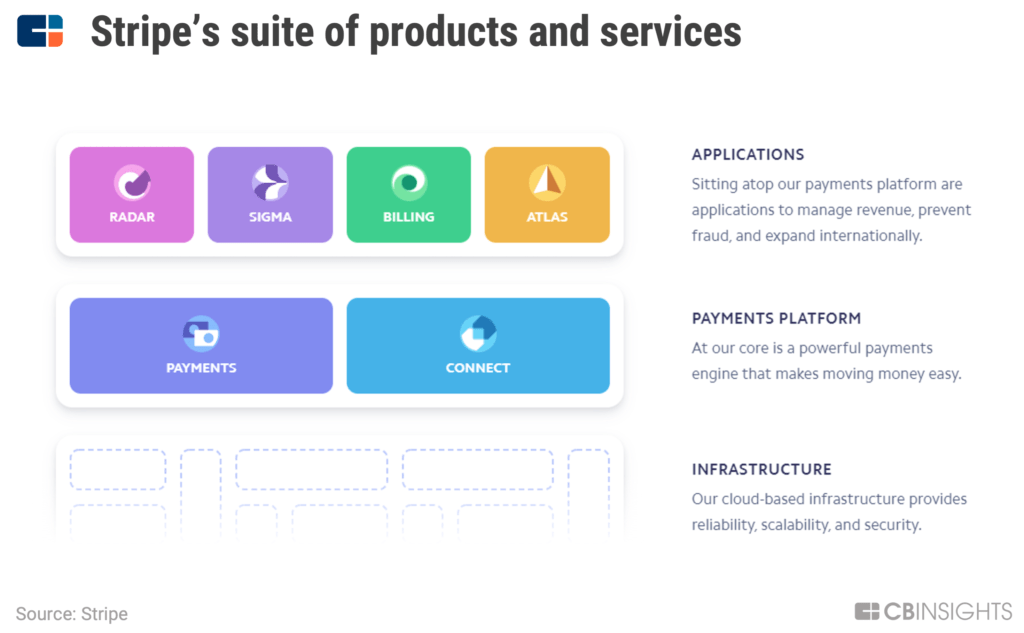 And Stripe seems to have found some success on these fronts. A 2018 IDC survey found that companies using Stripe's payments platform reported a 24% lower operational cost relative to traditional online payment processing. That figure more than doubled for companies processing more than $5M per year. On top of that, customers saw an average of 6.7% higher revenue by running on Stripe.
Goal 1: Broadly enable Online Commerce
Stripe is powering online commerce for merchants of all sizes through its suite of payment services APIs. Additionally, Stripe offers value-added services like fraud prevention and analytics to save customers money.
Online & offline payments
Stripe's Payments APIs — which allow it to process payments for online merchants  — are the linchpin of its business. The company's payments infrastructure facilitates online commerce through its Global Payments and Treasury Network (GPTN).
In September 2018, Stripe brought its initial Payments product to physical transactions with the launch of Stripe Terminal, moving into in-store payments processing. The move came as Stripe saw that businesses were intent on capturing the online-to-offline retail opportunity — and realized it was leaving money on the table, with the vast majority of commerce still occurring offline.
Fraud prevention tools
Payment processing requires confirming a buyer's identity. That task is particularly challenging online, as it is easier to make a fraudulent purchase on the internet than it is in a physical store. Retailers across the world are estimated to lose around $130B between 2019 and 2023 in card-not-present (CNP) frauds, according to Juniper Research. And fraud is an expensive line item for merchants because they have to cover costly fees for each chargeback consumers request.
Stripe Radar offers a set of machine learning-based fraud prevention tools that integrate into the payments flow. It monitors transactions in real-time and scores them based on past transaction data trends. The system is more effectively able to flag potentially fraudulent transactions as it ingests more data.
goal 2: Support Merchant Partner Growth
In addition to helping businesses accept digital payments, Stripe also aims to support its business partners' growth. The company aspires to build a complete toolkit for internet businesses, bundling an increasing number of services for small businesses (which could help it become a stickier product).
Stripe benefits from its profound amount of customer data, which enables it to improve existing products while informing new product development.
The company contributes to its customers' growth on 2 dimensions: enabling new business models and extending financial services products.
Stripe Connect & billing services
As companies increasingly operate on multi-party platforms and marketplaces, the ability to accept and send payments to third parties is vital.
"What we've seen happen in the last couple of years is that a lot of new marketplaces have sprung up online — more companies are turning their users into sellers, like Airbnb or Kickstarter." — Patrick Collison
In 2012, Stripe introduced Stripe Connect to allow businesses and individual sellers on online marketplaces to get paid via Stripe. Seeing growing demand from a new generation of marketplace businesses, Stripe offers customers a way to profit, whether they are listing their apartment on Airbnb or delivering meals via DoorDash. E-commerce enabler Shopify was one of the first users.
With Connect Payouts, sellers can top up their Stripe account and issue payments within the same business day. Connect also creates a forum for new business models: in 2014, General Catalyst launched a new $10M fund with a sole mandate of investing in applications built on top of the Stripe Connect platform.
Source: Stripe
Stripe also launched its Billing product in 2018 to cater to the rapidly growing subscription e-commerce market. The product offers an end-to-end billing and subscription management platform to compete with offerings like Zuora. Businesses can customize their billing approach, experiment with pricing models, and streamline the recurring billing process to reduce card declines and retain revenue.
And in December 2020, Stripe launched Stripe Treasury. The service enables Stripe clients — including e-commerce giant Shopify — to provide their customers with banking services.
Virtual card issuance
Given Stripe's growing role in enabling marketplaces and platforms with Connect, virtual card issuance was a logical next step for the company — and Stripe launched Stripe Issuing in mid-2018. Issuing serves corporate expense and digital banking use cases, among others.
Companies can create and issue cards using Stripe's API. Instead of taking a few months, the entire process is done in a few clicks. Users can configure spending limits, allowed merchant categories, and other details.

The broader market for virtual card issuance is expanding. Marqeta, a card-issuing competitor, has raised $527M to serve this rapidly growing market centered around card issuance and management. Marqeta's CEO and founder Jason Gardner often quotes the total payment volume in the card-issuing industry to be around $45T. With an estimated 1% take rate, the global revenue opportunity is around $450B.
Merchant e-commerce payment providers are uniquely positioned to address the virtual card issuance market: Adyen launched a similar product in 2019, Adyen Issuing.
Ultimately, Connect and related marketplace products are bets on the growth of new internet-based business models, as well as an entry point for Stripe to cross-sell additional products to customers.
Business lending & corporate cards
In late 2019, Stripe entered into the provision of financial services products to customers. Within a week, it announced the launch of its SMB Lending product Stripe Capital, as well as Stripe Corporate Card, its rebuttal to Brex.
Big tech players like Amazon, Square, Intuit, PayPal, and Shopify have all made overtures to enter the small business lending market. These companies can leverage private data to price credit risk for customers already on their platform. Meanwhile, banks continue to cut back on lending to small businesses, leaving a large hole in the market for new entrants and tech players.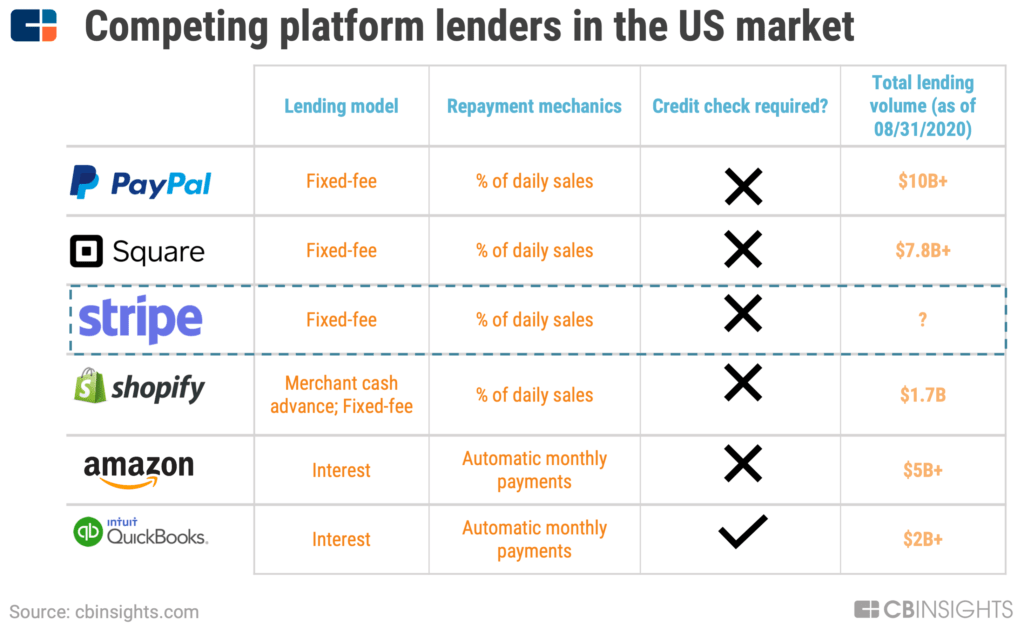 Stripe Capital is a flexible small business loan available to existing Stripe users. The offering funds within one business day and automates repayment as a fixed percentage of daily sales. The product was launched in mid-2019, with the current loan size typically between $10K-$20K (although it can range up to six figures).
Business lending has been a growth area for rivals like Square, which launched a similar product known as Square Capital in 2014. Since its inception, the company says that Square Capital has originated over $7.8B in funds to 426K merchants.
Stripe launched its Corporate Card shortly after announcing Stripe Capital. The product, still in an invite-only phase, offers business cards to existing Stripe customers with dynamic credit limits, real-time expense reporting, and personalized rewards, including 1.5% cashback on business purchases across all categories. There are additional business-focused perks as well, including AWS credit and discounts for services like Slack.
Stripe Corporate Card targets high-growth startups and small businesses that are underserved by incumbent card issuer offerings — sometimes due to factors such as limited credit history and light income statements. Commenting on the current state of the market, Stripe business lead Cristina Cordova said "a lot of these businesses are using their personal cards."
Several startups are competing for market share in the global corporate card market, which has been dominated by American Express for decades.
Brex is one company in the space. The unicorn names Airbnb, Carta, Flexport, and Y Combinator as customers. Utah-based Divvy, an expense management platform for SMBs, is another.
Stripe's integrated payments platform can provide a data advantage over companies like Brex and Divvy, which appeal to customers primarily through superior customer experience, transparent fees, and dynamic credit limits. Given the wide array of services Stripe provides — including the ability to process its own payments — the company can offer a unique value proposition, especially considering that cardholders must already have a Stripe account, and are therefore likely already familiar with the service.
Stripe's foray into financial services products is a logical strategy for the business given its existing product offerings. We expect Stripe to introduce more financial services products to businesses and Stripe Connect platform partners, while also expanding access to the offerings beyond the US. As of January 2021, Stripe is available for businesses based in 43 countries.
goal 3: grow the Internet Economy
Stripe has created an incentive structure where its success is aligned with its customers: the more customers Stripe has, the greater its payment volume opportunity. In turn, Stripe ultimately aims to grow the universe of online businesses and simplify new business creation.
"Over the last decade, AWS enabled any new business to start easily and inexpensively…Stripe is doing the same thing for online commerce. A large majority of the companies started in the US, and increasingly all over the world, will start with tools from Stripe." — Hemant Taneja, General Catalyst
In order to widen the funnel of eligible businesses, Stripe is focusing on 2 key growth drivers: reducing barriers to new business creation and international market expansion.
Stripe Atlas & Sigma reduce barriers to new business creation
In February 2016, Stripe launched Stripe Atlas, a service to help entrepreneurs create a US-incorporated business in 20 minutes. The service has been used by thousands of companies that have collectively raised over $1B in funding — including CoinTracker and Cognition IP — and by founders in more than 140 countries since its launch. Stripe Atlas serves as a front door and a feeder program to the Stripe ecosystem.

Source: Stripe
Using Atlas, founders can submit an application and $500 fee for Stripe to incorporate the company (LLC or C Corporation) and open a US-based bank account for it. From start to finish, the process takes under two weeks.
After being granted a tax ID and a bank account, Stripe Atlas provides businesses with access to Stripe's payment platform including Connect, Subscriptions, and Radar.
The Atlas program also helps Stripe keep customers using its stack by granting businesses access to tax and legal advice, special offers on startup services (like credits for AWS or Google Cloud), and a library of guides covering business management and growth. There is also a free, one-month Atlas course to educate aspiring entrepreneurs on the ins and outs of starting a business.
Stripe Atlas has been growing quickly, according to a tweet from Patrick Collison.
Stripe also has a product called Sigma, a customizable SQL tool that simplifies the process of building internal analytics tools for customers. The tool helps locate business information faster and enables teams to save and share queries. This is another way that Stripe is simplifying business operations for new companies and providing an ever-expanding toolkit for businesses.
Stripe's recent strategic initiatives
The history of Stripe has been marked with a number of acquisitions, and the company has been amping up its private market investment activity over the past 24 months.
Stripe's M&A mandate
Stripe's M&A strategy primarily focuses on 3 goals: empowering developers, supporting new lines of business (like in-store payments), and promoting internet-focused entrepreneurship.
Empower developers
Stripe's early acquisitions largely focused on making internet developers' lives simpler. In 2013, the company bought Kickoff, a chat and task management app, and in 2016 it purchased RunKit to supplement existing developer prototyping tools.
Following the acquisition, Runkit founder Francisco Tolmasky said, "I was already aware that Stripe had a history of investing in development, but Patrick made clear that lowering the bar to development is fundamentally aligned with Stripe's interest in increasing the leverage of developers around the world."
Support new lines of business
In July 2017, Stripe acquired Payable, a platform that simplifies the process of managing and paying contractors and freelancers. It also allows businesses to generate 1099 tax forms for contractors. Following the acquisition, Stripe further prioritized solutions targeted at the gig economy, integrating them into the Stripe Connect product.
In March 2018, Stripe purchased Index, an in-store POS system startup. Index provides software for in-store payments systems, like the PIN pads used to pay with a debit or credit card. Six months later, Stripe announced Stripe Terminal, a programmable point of sale for in-person payments.
In 2019, Stripe acquired Touchtech Payments, an Ireland-based startup that helps banks build Strong Customer Authentication (SCA) verification processes.
Last year, Stripe paid $200M to acquire Paystack, a Nigeria-based startup that provides online payment services using an API. Paystack had amassed around 60,000 customers, including startups, enterprises, and educational institutions.
Promote internet-focused entrepreneurship

In 2017, Stripe acquired Indie Hackers, a knowledge-sharing platform for entrepreneurs. The rationale was "to simply ensure that the site becomes as successful as possible. The Stripe upside we're hoping for is that more companies get started and that they're more successful," according to Patrick Collinson.
Stripe is ramping up its private market investments
Stripe began making venture-style investments in startups in 2014.
Jordan Angelos runs the investing and M&A team at Stripe. Since joining the company from Accel in 2016, Angelos has ramped up investment pace, with 23 of 30 deals Stripe has participated in closing since the beginning of 2019.
The investment team appears to be growing, implying a more concerted focus on early-stage investments and M&A, with recent additions to the team and a growing presence in New York.
International expansion
Stripe has participated in several deals to startups that can help expand Stripe's presence in international markets, including:
Stripe has also backed deals to challenger banks Monzo and Step Mobile, with Jordan Angelos joining these boards. The company led rounds in Pico, a micropayments alternative for client news sites that works with Stripe, and Pilot, a small business bookkeeping platform.
Stripe also led a $20M Series A for Fast, a checkout tool for e-commerce. This is ostensibly a competitor to Stripe's Checkout product. Given the reported size of the investment, Fast could be a potential acquisition target for Stripe down the road.
Developer support
Stripe's mission statement focuses on making life easier for developers and increasing the GDP of the internet. To achieve these goals, the company has built various tools internally and has also invested in companies solving problems in the developer ecosystem.
In 2018, Stripe invested in Lambda School, which trains students to be software engineers in exchange for a cut of their future salary. The company doubled down by participating in Lambda's $74M Series C in 2020. Stripe has also invested in Autocode (formerly Stdlib) a library of pre-built APIs for developers.
Expansion into emerging markets
With 5 out of 6 new internet users coming online from areas outside of North America and Western Europe, global expansion is a key priority for Stripe. The company has taken an aggressive but strategic approach toward new market entry, expanding globally through its open engineering and easy integration.
Global expansion can provide Stripe with more customers, more diverse datasets, and the ability to build more effective applications and products on top of its payment stack.
Today, Stripe is available to merchants in 43 countries, with plans to reach more in the next few years, representing roughly 70% of the global economy.
However, Stripe is still in the early days of global expansion, according to CEO Patrick Collison:
"[T]here are 175 countries in which we would like to be more available, so there is still a lot of work to do."
Currently, Stripe's top international priorities are expanding into Southeast Asia, Latin America, and Africa. These regions' internet economies are poised for rapid growth, presenting big opportunities for Stripe.
Mobile internet users in Southeast Asia are among the most engaged in the world, and the market has added over 100M new internet users since 2015 to bring it to a total of 400M in 2020, according to a report from Google and Temasek.
As a result, Stripe has begun reinvesting heavily into Southeast Asia.
In 2018, Stripe selected Singapore as the site for its Asia-Pacific engineering hub. Singapore is currently an emerging hotbed for innovation in Southeast Asia: in 2018, a record 69 VC-backed startups received their first investment, a 41% increase from 2017, according to CB Insights data.  Stripe already has strong end-usage in Singapore: in 2018, nearly 70% of Singaporeans purchased something through Stripe's payments infrastructure.
Beyond Singapore, Stripe launched in Malaysia, which has some of the most engaged internet users in the world. The company also backed PayMongo, a Manila-based fintech startup that helps accept payments online.
In Latin America, Stripe launched in Mexico in October 2019 after opening a new office in Mexico City a few months prior. Given the rapid internet penetration, e-commerce growth in the region, and friendly regulatory environment in Mexico (CoDi payment infrastructure, Fintech Law), Stripe is focused on serving a growing number of technology companies in Latin America, and already works with leading companies like Platzi, Rappi, Cornershop, Urbvan, and Parafuzo.
What's next for Stripe? 
Over the last few years, Stripe has focused on international expansion, product innovation, and ramping up strategic investments. Strategic priorities for 2021 are likely to resemble these trends. The company's future plans are to "continually make it easier for businesses to sell around the world," says Stripe co-founder John Collison. "This sounds deceptively simple but is actually extraordinarily complex when it comes to it."
More international expansion
Stripe has been transparent about its plans for continued international expansion. Given Stripe's acquisition of Paystack and expansion into more European countries, Africa and Europe are likely to be a continued area of focus in 2021.
Similarly, further expansion in Southeast Asia is sure to be a priority given the continued growth of the region's internet economy and consistently high engagement from online consumers.
Product innovation
Stripe made a big push into financial services products in 2019 with the launch of Stripe Capital and Corporate Card. While these products are only available to US customers today, down the road, there will very likely be an expansion beyond North America. Given the dearth of quality financial services products for businesses in emerging economies in Africa, Southeast Asia, and Latin America, as well as Stripe's strategic investments in these regions, there are compelling opportunities for financial services product expansion.
Additionally, as the on-demand economy continues to take shape on a global basis, Stripe will be focused on serving this market with its Issuing product. While we haven't seen much publicity around the product's development since it launched in mid-2018, given the growth of the virtual card issuance market globally, Stripe Issuing will likely be a larger area of focus going forward.
As Stripe aims to serve merchants in new ways, it may also explore opportunities in insurance and small business banking.
Investment activity
Stripe's investment team is growing its East Coast presence. Given Stripe's geographic priorities and recent investment activity, the company is likely to continue investing in companies focusing on payments infrastructure and financial inclusion around the world.
The road ahead
Stripe has been laser-focused on its core mission of enabling online commerce and widening the funnel of the internet economy. While only a fraction of global buying activity happens online today, Stripe is hoping to help boost that number to double digits. Stripe also aims to be indispensable to its merchant partners as it offers new products and explores new markets.
Despite its high-flying valuation, Stripe has steered clear of cultural and capital-related issues that plague many of its unicorn peers. Much of Stripe's success can be attributed to an unrelenting focus on its core customer, the developer.
As Stripe takes on more payment volume from existing customers, while also bringing new customers on board from new markets, the flywheel effect in Stripe's ecosystem may really take off — presenting the company with opportunities for new revenue streams across a broader range of financial services products.
If you aren't already a client, sign up for a free trial to learn more about our platform.