We dig into the ways retailers are changing how consumers shop IRL — and how tech will support the transition.
Brick-and-mortar retail is at a crossroads.
On one hand, physical retail is absolutely necessary: Around 85% of all retail sales in the US happen in stores. 
On the other, despite a slowdown in growth, e-commerce's proportion of retail sales is higher than it was pre-pandemic. Technologies from text commerce to virtual worlds are making digital shopping more immersive and seamless. And many retailers are culling their fleets: CVS, for instance, will close 900 stores by 2024, while Amazon shuttered all of its existing non-grocery stores in March 2022.
Yet store remodels, new formats, and store openings are still a prominent part of retail executives' conversations. In fact, the ongoing challenges that retailers face have made it more important than ever before to invest carefully and purposefully in stores.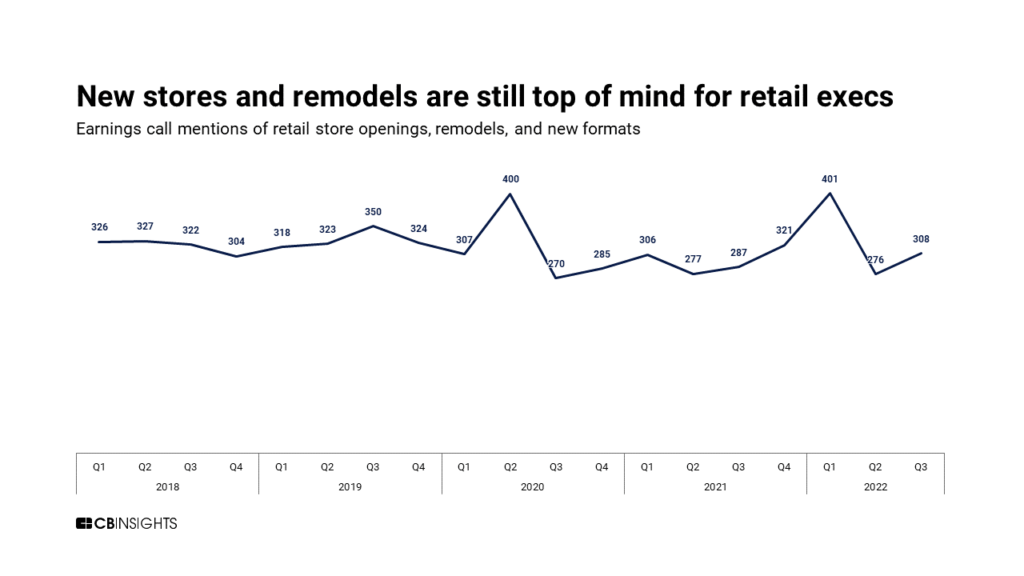 One approach is to remodel stores and find ways to squeeze more out of retailers' existing assets. For instance, Walmart spent $3.3B on store remodels in 2021 — 52% more than it spent in 2018. In 2022, the retailer is on pace to spend nearly 20% more than it did in 2021. Target also plans to remodel another 200 stores in 2023. 
But several retailers are aiming to elevate the in-person shopping experience further by launching entirely new store formats. They're turning to new layouts, services, assortments, and technology to give shoppers a distinctive reason to visit a store — and more importantly, the right experiences to drive them to make purchases.
We examined 5 of these new store experiments that are leveling up brick-and-mortar shopping by creating exciting, efficient, and necessary stores:
Expertise-driven experiences
Omnichannel natives
Shop-in-shops
Smaller stores
Specialized spin-offs
The formats emphasize the need for more consistent and in-depth employee training as well as the importance of customer data as a foundation for decision-making.
Tech solutions will be fundamental in advancing these new formats. Each breakdown below will also direct you to CB Insights research that can help identify the right tech and vendors to create these IRL experiences. 
Expertise-driven experiences
What are expertise-driven experiences?
Retailers are opening stores with more interactive features and an emphasis on service. These formats promise shoppers specialized, in-person experiences and education. While the high level of service is meant to draw traffic, the "experiences" also serve as physical marketing — the embodiment of retailers' brand messages. 
key Players in the space
Sporting goods stores in particular are taking their expertise and running with it (so to speak).
Nike led the way in 2018 with its first service- and experience-focused House of Innovation stores in Shanghai and New York. (Another location opened in Paris in 2020.) The stores feature an "Expert Studio" where shoppers can book appointments to get training or styling tips, as well as immersive displays of Nike's newest apparel, a "Sneaker Lab" library of shoes, and made-to-order products. The brand's Rise stores — which launched in China in 2020 — are smaller, more localized, and expert-driven stores, featuring workout classes and advice as well as a snack bar. In November 2022, the brand opened its first North American Rise format in Miami, FL.
More retailers are joining in. Since June 2020, Dick's Sporting Goods has announced 3 new store concepts that are focused on offering more interactive, educational shopping trips. House of Sport, which opened its first location in 2021, allows shoppers to test products and practice on a 17,000-square-foot turf field and track, a rock-climbing wall, and putting greens, in addition to using services like yoga classes and racquet stringing.
In 2021, Dick's also opened its first outdoors-focused Public Lands store, which features specialized customer service from employees who are "passionate" about the outdoors in addition to outdoor gear, a 30-foot rock climbing wall, and equipment rentals. The retailer has also opened a more intensive version of its Golf Galaxy chain, called Golf Galaxy Performance Center, that features tech that allows shoppers to analyze their golf strokes, in addition to hitting bays, lessons, and fittings.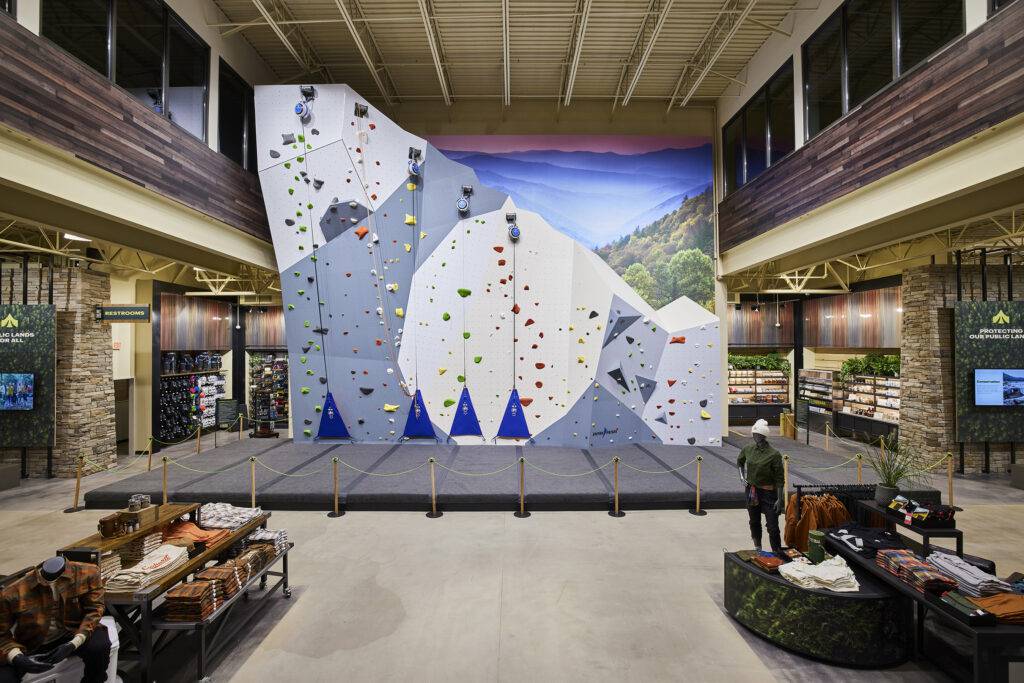 Dick's' outdoors-focused Public Lands store. Source: Dick's Sporting Goods
Champs Sports and Lululemon have also opened stores that highlight their areas of expertise and immerse their shoppers in their brand story. Lululemon's 20,000-square-foot Chicago store also features a restaurant and workout classes. 
Like sporting goods, beauty and fashion categories are ripe for expertise-driven selling. In this vein, brands are taking the opportunity to curate their assortments. For instance, Allure magazine has already established its standing in personal care circles with its annual Beauty Awards, where its experts anoint the best products in hundreds of categories. In July 2021, it opened its Allure Store in New York City, which exclusively features those winning brands.
Meanwhile, in November 2022, H&M opened a store in Brooklyn, NY that includes a limited, seasonal assortment much smaller than H&M's traditional selection. The store features specially trained stylist associates and RFID-enabled dressing room mirrors that can make suggestions based on what shoppers are trying on. 
Other expert-driven formats narrow their focus to the expertise only: For instance, in early 2022, Ikea opened 2 8,000-square-foot Planning Studio stores in Los Angeles, where shoppers can work with designers to map out and order what they need for their homes.   
What's next? 
Tech that enables employee training and communication will get a boost

as employee education and development becomes a bigger priority in an expertise-driven retail landscape.

Platforms that support "expert" relationships outside of store walls, like omnichannel clienteling tools, will be essential

to meeting consumers' expectations for unified experiences across in-store and online.

Chat commerce and other 1-to-1 marketing will become key

 as expert associates could be empowered to become micro influencers or marketers.
Learn more from CB Insights research: 
Omnichannel natives
What are omnichannel natives?
Retailers are making omnichannel shopping a native part of new formats, integrating digital shopping tools and other technology from the ground up (rather than merely bolting it onto existing stores). These tech solutions generally aim to make shopping trips more convenient, whether by eliminating lines, speeding up customer service, or sorting through inventory faster. But many of the tools can also help retailers understand shoppers' behavior and collect data to make the experience more customized and seamless. 
key Players in the space
Perhaps the most prominent tech-enabled store format in recent years has been the cashierless checkout store. Amazon led the way when it introduced its "Just Walk Out" computer vision tech in its Amazon Go stores in 2016. Since then, the options for unattended checkout have continued to grow (including smart carts, mobile self-scan, and Amazon's own palm reader).
Retailers from Circle K to stadium concession stands are piloting different forms of cashier-free tech. In May 2022, for instance, Dollar General announced it would trial making about 200 of its stores self-checkout-only. The systems not only aim to deliver convenience for shoppers, but also can be a key source of shopper data for the retailers that deploy them.
But retailers are reaching beyond checkout tech to integrate digital tools into the store experience.
Nike in particular has been a standard-bearer in digitizing its stores. Members of its loyalty program NikePlus can use the brand's app for digital experiences across all of Nike's banners, from its House of Innovation flagships to its smaller Style, Rise, and Live formats. Shoppers can scan QR codes in stores to learn more about products and check on inventory levels, call for customer service, reserve products, and ultimately check out, whether online or for in-store purchases.
In Nike Style stores, scanning QR codes can activate augmented reality experiences, and the newest location in Seoul also features a studio where creators and shoppers can customize content for social media. Nike Rise stores give app users access to nearby athletic events as well as personalized products. And the brand's loyalty member-only banner Nike Live offers the ability to text directly with associates.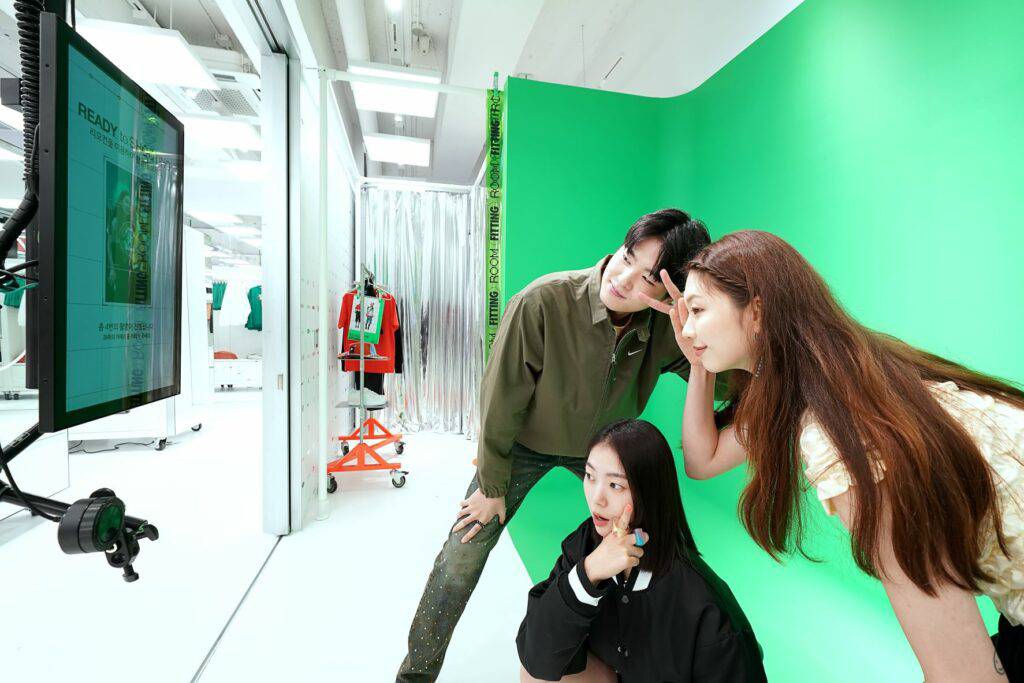 Nike's creator-focused Style format in Seoul. Source: Nike
Similar digital-first stores that embrace omnichannel shopping are proliferating across specialties. Best Buy's first 5,000-square-foot store (a fraction of its normal store size), which it opened in North Carolina in July 2022, has a limited assortment, mobile self-checkout, livestreamed customer service and advice, and lockers for order pickup. Meanwhile, as of November 2022, The North Face plans to open 70 stores in North America geared toward flexibility and omnichannel operations. The stores will feature a moveable point of sale and tools to enable online orders and shipping. 
Finally, as Amazon continues to invest in apparel merchandising and experiment with brick-and-mortar stores, it opened a tech-heavy Amazon Style location in May 2022 focused on fashion. Using the Amazon app, shoppers can scan QR codes to request items be sent to their fitting rooms, where they can then rate items, get instant personalized recommendations, and have more items delivered. Shoppers can also buy items and have them delivered to the Style store. 
What's next? 
Ease of tech retrofit and integration will remain a top priority

for retailers deploying more digitized stores, as most will look to upgrade their existing store assets rather than build entirely new ones. 

Precision in hiring will be necessary for retailers

to ensure associates have the right skills to interact with the digital stores. As is the case with all new store formats, employee communication and hiring tech solutions will be in focus. 

Loyalty and retention tech will become a bigger part of omnichannel-native stores' solutions.

Retailers eager to gather data on their shoppers will push personalized recommendations, discounts, and other benefits to encourage shoppers to log in while they're in the store. 
Learn more from CB Insights research: 
Shop-in-shops
What are SHOP-IN-SHOPS?
Retailers are partnering with other retailers or brands to share store space. By diversifying assortments and brand experiences, partners hope their combined power will grow sales via more traffic and bigger baskets. While the "store within a store" (SWAS) concept is nothing new, as retailers tighten up square footage and zero in on profitability, finding new ways to monetize store space will be even more important.
key Players in the space
Many shop-in-shop partnerships simply aim to capture new traffic: For instance, in 2022, Macy's expanded relationships with Clinique and Toys R Us to create branded experiences and add to its department store assortments. Similarly, following the end of Sephora's shop-in-shop relationship with JC Penney, the beauty retailer agreed in August 2022 to open outposts in Kohl's stores nationwide. 
Meanwhile, as customer acquisition and data collection have become more challenging, Target's shop-in-shop partnerships have zeroed in on the potential value of the customer data shared between entities. For instance:
In October 2022, the retailer expanded its store-in-store partnership with Apple to 150+ locations and gave Target Circle loyalty members a

4-month free trial of Apple Fitness+.

In February 2022, Target and Ulta announced plans to open 250+ more "Ulta Beauty at Target" locations this year. Members of Ulta's Ultamate Rewards program who link their accounts to Target Circle earn benefits for both.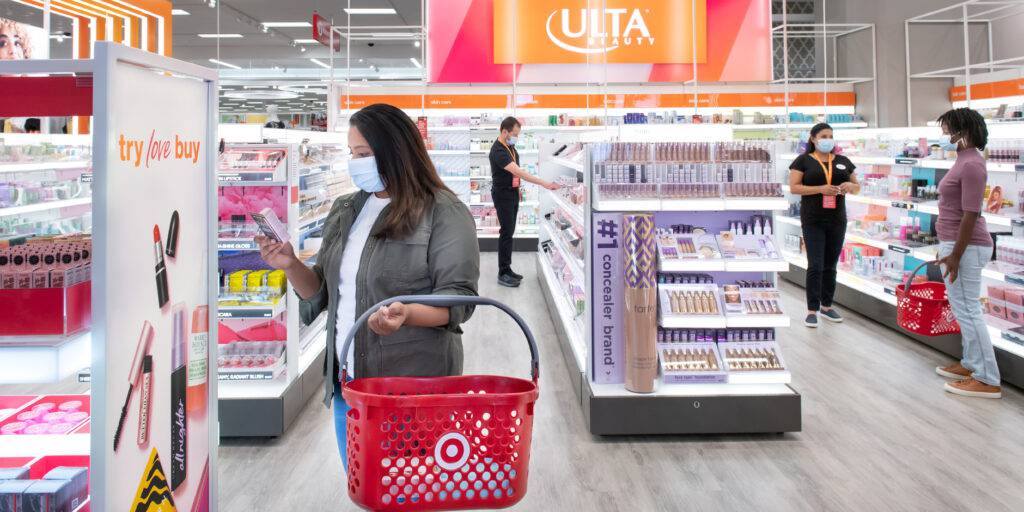 Ulta Beauty at Target. Source: Target
In the end, in addition to the possibility of winning over a new customer, Target and its partners get the benefit of more insight and data on their most loyal customers.
What's next? 
Loyalty platforms that can help retailers, brands, and consumers connect programs

with ease will enable more effective data partnerships in stores. 

Location-based marketing and indoor mapping analytics will play a key role

in helping retailers and brands understand how shoppers are using shop-in-shops.

In-store partnerships

create more need for associate upskilling.  
Learn more from CB Insights research: 
Smaller stores
What are smaller stores?
Retailers continue to experiment with smaller store formats. Smaller footprints can help retailers fulfill a more specific need for shoppers and unlock new markets. In contrast to some retailers' past efforts to open fleets of smaller stores, retailers are now being more thoughtful with smaller stores' focus and placement.
key Players in the space
Supermarkets continue to be the most active store-shrinkers. Many are using the smaller stores, which range from one- to two-thirds of a normal store size, to offer shoppers specialized experiences. For instance, in 2021, midwest grocer Schnucks opened a Schnucks Fresh store in southern Indiana that focuses on perishable departments. Lowes Foods, based in North Carolina, launched an events-focused store in early 2022 with space for parties, meetings, classes, and tastings. The store also takes advantage of the smaller space to feature unattended checkout tech (specifically, mobile self-scan).  
Other retailers are using small formats to reach new shoppers. The fashion retailer Express announced in September 2022 that, by the end of the year, it would open 6 Express Edit stores in off-mall, urban locations with high visibility. The stores feature a very limited assortment and are meant to both acquire new customers and entice former shoppers back to the brand.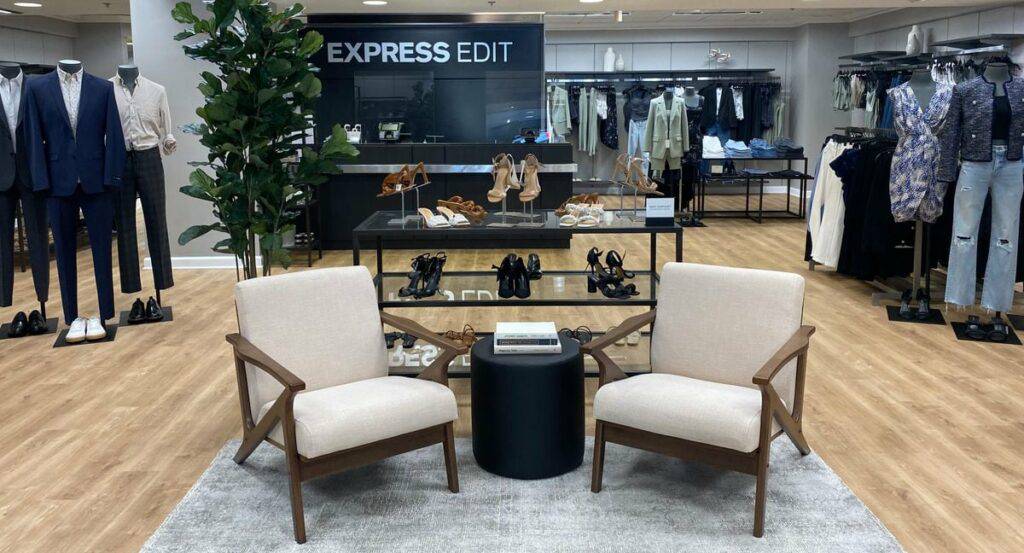 Express' smaller Edit format. Source: Retail Dive
What's next? 
Tech that tracks the customer journey

, from indoor mapping analytics to unattended checkout systems,

will play a key role in understanding retailers' opportunities

in small formats.

Demand forecasting tech and other supply chain optimization tools will help retailers

make more sophisticated and data-driven decisions for small stores. 

Tech to optimize trade promotion and pricing will be crucial

to help retailers and brands boost margins, which become a bigger challenge as formats shrink. 
Learn more from CB Insights research: 
Specialized spin-offs
What ARE SPECIALIZED SPIN-OFFs?
As retailers hunt for any new pockets of growth in mature and saturated markets, they are also launching new banners expressly to attract new shoppers. These formats are often in new locations or markets and feature specialized assortments that cater to target shoppers' particular needs. 
key Players in the space
In 2020, Dollar General — one of the few retailers still opening stores at scale under its namesake banner — launched a new format called Popshelf aimed at middle-class suburban female shoppers. In contrast to the essentials and consumables that make up most Dollar General assortments, Popshelf stores aim for a "treasure hunt" experience by offering a broad range of products (including seasonal items, home decor, health & beauty products, and party supplies) and encouraging shoppers to browse and discover new items.
The retailer plans to open 1,000 Popshelf locations by 2025, with some as shop-in-shops inside existing DG stores.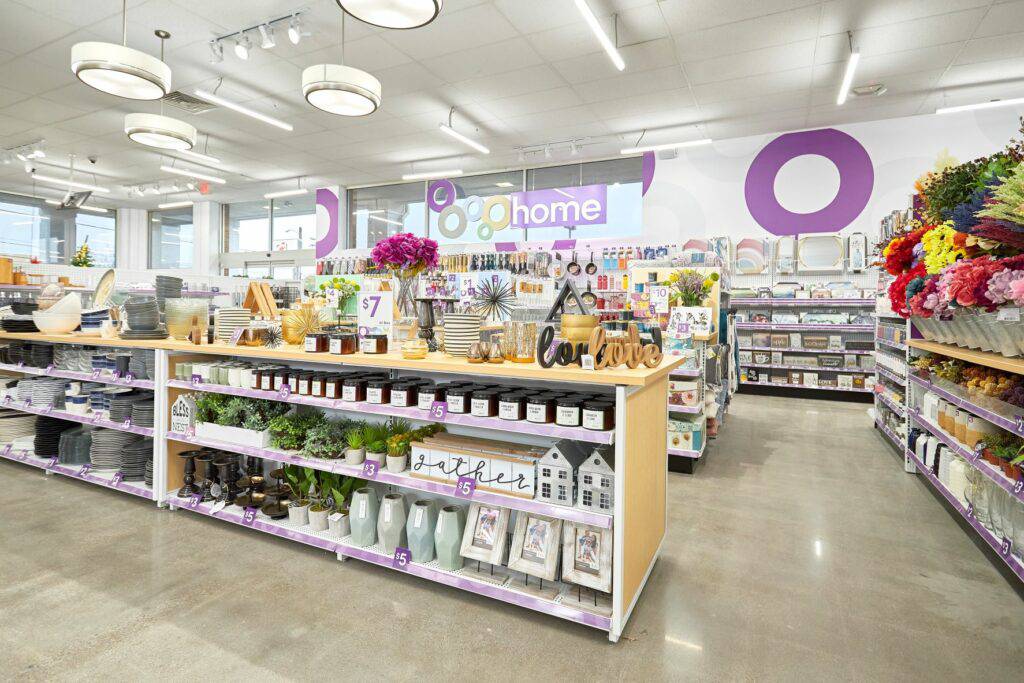 Dollar General's Popshelf format. Source: Dollar General/Popshelf
Meanwhile, Amazon and Petco have both adapted their core formats to reach consumers in new locations. Petco launched Neighborhood Farm & Pet Supply in June 2022 to serve customers in small towns and rural areas, with an assortment geared not only to pets but also to livestock and farm animals. Meanwhile, in early 2022, Amazon began expanding the reach of its traditionally city-based Amazon Go cashierless convenience stores with larger, suburban versions. The stores feature more services, like made-to-order food and to-go drink stations. 
What's next? 
Refined and precise customer data will be a high priority

as retailers look for new pockets of growth, putting tech solutions in loyalty & retention as well as customer acquisition at a premium. 

As with small formats,

optimizing supply chain processes and demand forecasting will be paramount

to curate new and specialized assortments. 
Learn more from CB Insights research: 
If you aren't already a client, sign up for a free trial to learn more about our platform.