From HVAC optimization to digital twins, we evaluate and prioritize technologies for building managers to consider in building efficiency & efficacy.
Heating, ventilation, and air conditioning (HVAC) systems account for around 40% of all energy usage in commercial buildings. New digital sensor tech is enabling building managers to optimize these systems in a manner that aligns with sustainability goals.
Digitization and automation has also opened the door to tech-forward building management solutions — such as digital twins and vendor management tools — that improve occupant wellness while decreasing operating costs and introducing new revenue streams.
In this report, we evaluate 11 tech markets that building managers should monitor, vet, and prioritize toward this effort, including:
Air filtering & monitoring
Building security & monitoring
Building vendor management
Cleaning robots
Digital twins
HVAC optimization
Indoor mapping & occupancy analytics
Robotic vending
Virtual power plants
Waste management
Water management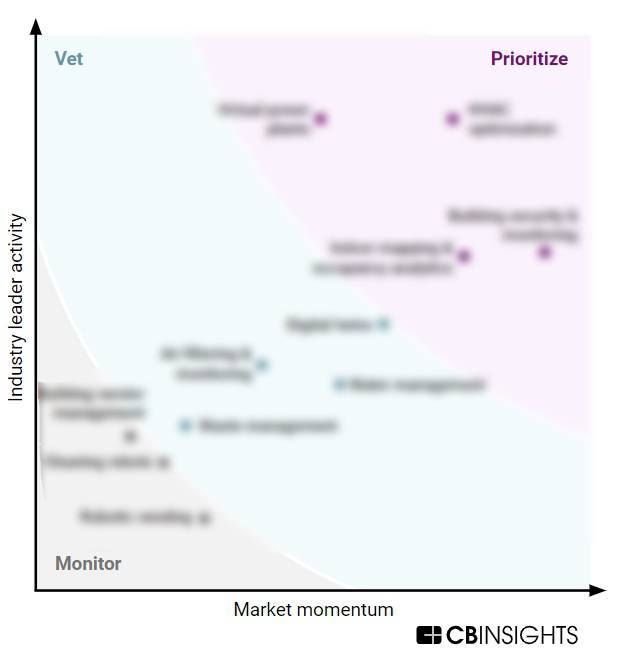 CB Insights examined tech markets across industrials using the MVP framework. This methodology scores top tech markets across two metrics:
Market momentum — Measures private market activity as a signal of the degree of overall market potential. Signals include the number of startups, the amount of capital invested, and the relative maturity of startups in the space, among others.
Industry leader activity — Assesses the degree of tech market involvement among established industry players. Signals include CVC activity, industry and executive chatter, and patent filings, among others.