We mined the NBA's acquisitions, investments, and partnerships to discern the league's strategic priorities.
The NBA is one of the largest and most influential sports leagues in the world.
The final game of 2022 between the Golden State Warriors and the Boston Celtics saw a peak of over 15M viewers — larger than the entire population of Belgium. Each of the 30 teams in the league is valued on average at over $2B.
NBA teams primarily make money via ticket sales, merchandise sales, and TV deals. Teams also share revenues from corporate sponsorships and other league-wide initiatives. Historically, the league created brand loyalty through innovative marketing platforms, stretching as far back as 1948 when it partnered with a gum company to produce the first NBA collectible playing cards.

download the 12 Tech Trends To Watch Closely In 2022 report
Download our full report to find out the top trends poised to reshape industries in 2022.
In recent years, the NBA has experimented with the way fans watch games and interact with their favorite teams and players, specifically within digital mediums.
The league is one of the few organizations that has capitalized successfully on the NFT collectibles space and has also made substantial efforts to engage an audience in metaverse-like platforms. Based on this track record, the NBA provides a playbook for companies with strong brand equity looking to enter the NFT and metaverse space.
Meanwhile, internally, the league is using next-gen tools and technology to improve how it scouts players, acquires talent, and strategizes team performance.
Using CB Insights data, we uncovered the 4 most important strategic priorities highlighted by the NBA's investments and partnerships since 2019. We then categorized companies by their business relationships with the NBA across these priorities:
Digital content & gaming

Player analytics & performance tech

Sports betting

Streaming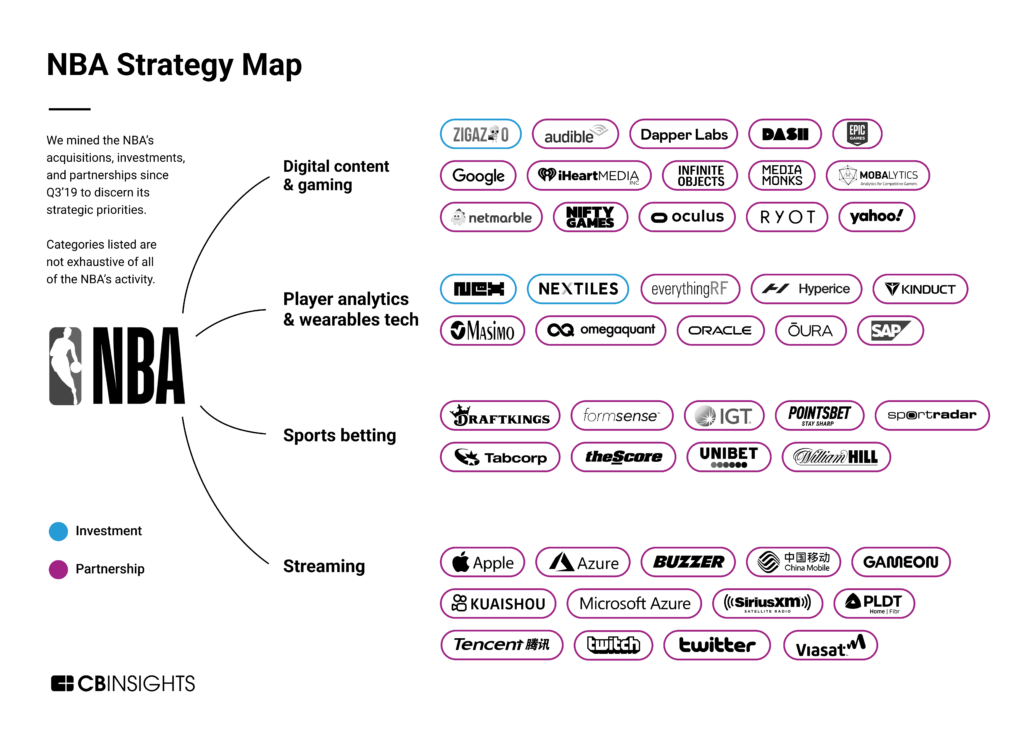 These designations are not exhaustive of the NBA's investment and partnership activity in the analyzed period.
Digital content & gaming
The NBA is entering into numerous partnerships with digital content & gaming companies, using digital collectibles and VR as novel ways to engage its audience. 
For example, in July 2019, the league partnered with and later invested in Dapper Labs, announcing the creation of NBA Top Shot, an NFT marketplace where users can trade collectible basketball video clips. In August 2021, a clip of Lebron James traded for over $230K on the platform. In November 2021, Infinite Objects partnered with the NBA to provide NFT owners with a physical display for their Top Shot clips. Infinite Objects has raised $6M in early-stage funding from Courtside Ventures and Dapper Labs.
Epic Games, the creator of popular battle royale video game Fortnite, announced a partnership with the NBA in May 2021 to include team skins and other league-themed content in-game. The NBA also has its own licensed video game focused on basketball, further expanding its footprint in the competitive e-sports space. The NBA entered into a multiyear partnership in June 2020 with Dash Radio to live stream the virtual NBA 2K league games.
The NBA has also partnered with Meta's headset play Oculus VR for a more immersive sports viewing experience. Within the Horizon Ventures app on Oculus, fans are able to interact with other fans as avatars and watch games from a "courtside" vantage point — a view that would be cost-prohibitive for many fans in the real world. Other business relationships, like the joint partnership between Yahoo's RYOT and MediaMonks, offered live VR games via the Oculus Venues app during the 2021-2022 season.
Watch for more shifts from conventional entertainment outlets to non-traditional content platforms — like those seen in the digital collectibles, VR/AR, and gaming spaces — as sports leagues seek creative ways to engage fan communities outside of traditional broadcasting.
Player analytics & wearables tech
Discovering, analyzing, and honing players' talents continues to be a key pillar of the NBA's growth strategy as the league seeks to boost game quality — improving engagement for fans.
The league has made investments in technology that helps scout and recruit exceptional players early in their basketball careers. In July 2019, the NBA participated in a $9M round of Series A funding for NEX, the creator of HomeCourt, a camera-based training app that uses AI to find and help train players.
The NBA also has notable business relationships with companies that are building hardware to aid player performance and recovery. In May 2022, the league invested in Nextiles, a wearables technology company that sews biometric sensors into clothing which are used to help coach players by capturing motion data. Meanwhile, Oura, which makes rings that can monitor players' heart health, partnered with the NBA in July 2020.
Software company partnerships have also provided a competitive advantage for certain teams in the league. Notably, the Golden State Warriors announced a technology platform with Oracle in November 2021 that provides players and coaches with real-time and historical data to analyze, assess, and hone player performance and strategy.
As sports leagues aim to improve the quality of games to increase viewership, continue to monitor broader developments from wearables and AI companies that could be deployed to help monitor, assess, and develop player health and performance.
Sports betting
Sports gambling has become more popular following the US Supreme Court's 2018 decision to give states the option to legalize betting on college and professional sports. This can provide a major boost to the NBA's cash flow. It was estimated at the time that the NBA would earn up to $585M in additional annual revenue from sports betting and additional fan engagement.
Draftkings, an online sports betting platform, became the NBA's official betting operator in 2019, granting the company access to official betting data provided by the league. Draftkings exited via IPO in April 2020, and as of August 2022 has a market capitalization of about $8B.
Other gambling entities, like Sportradar, have partnered with the NBA. In August 2022, Sportradr announced the launch of Virtual NBA, a new virtual sports betting experience that provides gambling operators with 3,000 simulated NBA games every day — advances in AI may make these simulations more compelling for fans. The virtual games aim to boost betting engagement within the global fan base, which is estimated at over 2.2B people, even in the offseason.
Expect sports leagues to continue exploring partnerships with betting platforms that can expand modes of monetization and offer new ways to keep fans involved, such as through simulated game scenarios.
Streaming
The NBA is actively experimenting with how fans watch games through partnerships with streaming providers — making it easier for viewers to access curated short-form highlights and live updates.
For example, in May 2021, the NBA partnered with Buzzer, a mobile app that provides personalized short-form videos of game highlights in real time. The partnership expands the app's offerings with NBA League Pass, which is a premium service that gives fans the ability to watch out-of-market games. Buzzer raised $9M in June 2022.
GameOn, an AI-chatbot technology company, announced a partnership with the league in November 2019 that allows fans to interact with its chatbot in Facebook Messenger. The app provides highlights, news notifications, and scoring alerts in real time.
The NBA's popularity abroad, most notably in Asia, has also led to global media partnerships as well. The league partnered with Tencent Holdings in 2019 to provide exclusive rights to stream games in China. Similarly, in 2021, the NBA announced a partnership with video-sharing app Kuaishou to become the league's official short video platform in China.
Anticipate an increase in digital streaming viewership and advances in supporting technologies to open up new opportunities for hyper-personalized experiences, such as exclusive highlights or VIP viewing experiences.
Other

NBA teams are partnering with contactless checkout solution providers in an effort to reduce lines and improve payment experiences in stadiums.
For example, Tappit, a cashless mobile payment company, partnered with the San Antonio Spurs in 2021 to provide contactless payments for purchases in its stadium. The partnership will allow fans to use the Spurs' app to pay for tickets as well as concessions and merchandise. Meanwhile, the Sacramento Kings announced a partnership with Zippin in 2019 to introduce checkout-free technology in concession areas.
If you aren't already a client, sign up for a free trial to learn more about our platform.