Quantum computing is still a nascent space — but its impact on financial services could be huge. We look at the tech's applications in finance and highlight the players already making moves to gain an early quantum edge.
Financial institutions are clamoring to capitalize on the prospect of a quantum future.
Quantum computers process information in a fundamentally different way than today's conventional computers. This allows them to conduct new types of calculations that otherwise wouldn't be possible. In theory, quantum-forward banks could build trading strategies that offer better returns, quickly parse through different portfolio combinations to find the best mix of investments, and supercharge risk analysis for tasks like issuing credit.
GET the 27-page quantum computing report
Download the free report to learn about the the quantum computing industry landscape and how close we are to quantum supremacy.
Though quantum computers won't be better at everything — and the machines still face formidable technical challenges — they are expected to excel at quickly completing banks' daily mathematical tasks, like Monte Carlo simulations (used to make predictions that better account for randomness) and optimization problems.
This broad potential is attracting attention, with media discussion of quantum computing in finance reaching an all-time high in 2021.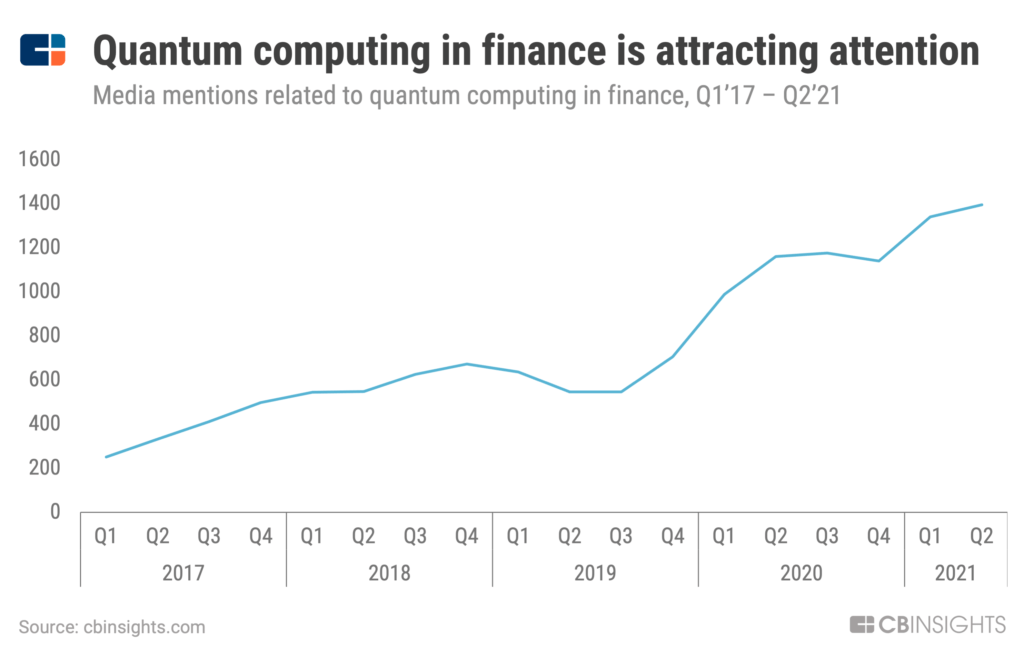 Banks are also taking notice. RBS, Blackrock, Citigroup, and BNP Paribas, among others, have funded quantum computing companies, while many other banks, including JPMorgan and Standard Chartered, have partnered with startups and universities to explore what the technology offers. Goldman Sachs has even reported that it will commercially deploy quantum computers within 5 years.
Below, we highlight 4 ways that quantum computers will change financial services, the moves that key players are already making in the space, and what risks to look out for.
For more on quantum tech, check out our quantum computing explainer and quantum tech market map.