Women are pushing back against a healthcare system that has largely ignored their specific needs, creating a broad space for startups offering women-focused solutions. From next-gen cancer screening to AI-powered fertility trackers, here's the technology transforming women's healthcare.
Women comprise half the population and control most of the healthcare spending in the US, yet the vast majority of modern medicine has been designed around men's anatomy. It wasn't until 1993, when the US Congress passed the NIH Revitalization Act, that women were required to be included in clinical trials. And even with that regulation in place, studies still show that women are heavily underrepresented in medical research.
The lack of women-specific healthcare solutions has led to misdiagnosis and delayed treatment. For example, early cardiovascular research was largely based on male subjects, who most often experience pain in the left arm and chest at the onset of a heart attack. Women, however, typically experience nausea, heartburn, and pain in the upper abdomen — symptoms that may be mistaken as indigestion. As a result, women are misdiagnosed more often than men and, in turn, are more likely to die of a heart attack.
 A growing group of mostly women-owned technology companies is leading the charge to close the gender gap in medicine, by developing women-specific healthcare (femtech) solutions. What started as a small niche in a big market is now expanding at a double-digit CAGR and will reportedly be a $100B industry by 2030.
The rise of femtech offers needed solutions for women who have had to accept healthcare that wasn't designed for their physiology. It's also a huge opportunity that's experiencing an upswell in funding, company launches, and communication.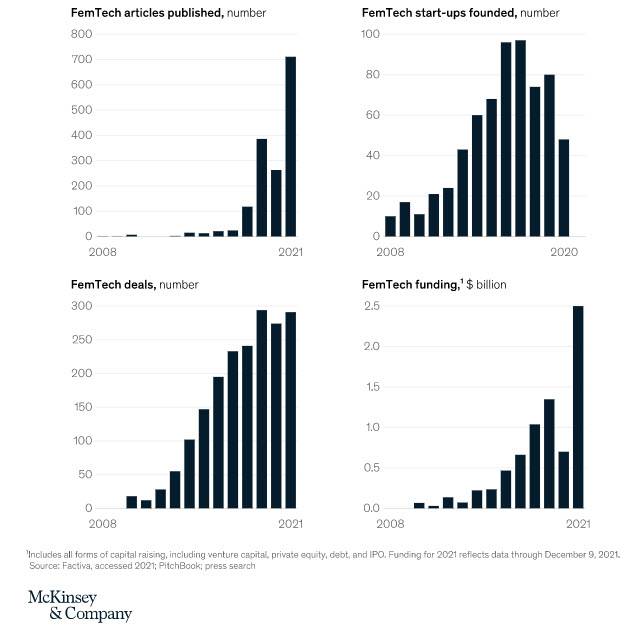 Source: McKinsey
With many needs still unmet, well-funded femtech startups will continue to develop technology that helps women finally access the care they need. Here, we examine the technology that is creating a new reality for women's healthcare. 
In this report, we explain how different innovations — from new devices to AI-enabled healthcare benefits — are improving these areas:
Making women's healthcare more affordable and accessible

Improving maternity care

Personalizing menstrual care

Enhancing understanding of menopause

Equalizing cancer care

Destigmatizing women's sexual wellness and contraception

Accelerating reproductive care

Demystifying pelvic health

Addressing other common conditions
Making women's healthcare more affordable and accessible
Women spend more than men on healthcare in the US, especially during childbearing years. They also tend to be primary caregivers, leaving them less time to care for themselves. Several femtech startups are working to create a distributed model of women-specific healthcare that's supported by employer benefit plans and accessible in a variety of convenient ways.