Viral social media marketing and data-driven manufacturing have led to SHEIN's meteoric rise. From next-gen market research to AI-powered search & recommendation engines, here's how companies are unbundling the $100B fast-fashion giant.
Founded in 2008, China-based fast-fashion retailer SHEIN has grown to become the third most valuable unicorn in the world with a valuation of $100B.
The company began as a wholesale clothing retailer, but quickly expanded its product offerings after its acquisition of e-commerce clothing retailer Romwe in 2014. By 2022, SHEIN overtook Zara, H&M, and Forever 21, claiming the largest portion of US fast-fashion sales at 28% by shrinking design cycles and marketing to hyper-specific audiences.
However, critics question the sustainability of SHEIN's manufacturing processes and its workers' wellbeing.
Startups are using AI-powered product recommendations, on-demand manufacturing, and more to help other fast-fashion retailers stay competitive while mitigating their environmental and social impact.
Below, we look at how companies are unbundling SHEIN, from virtual try-on to trend identification.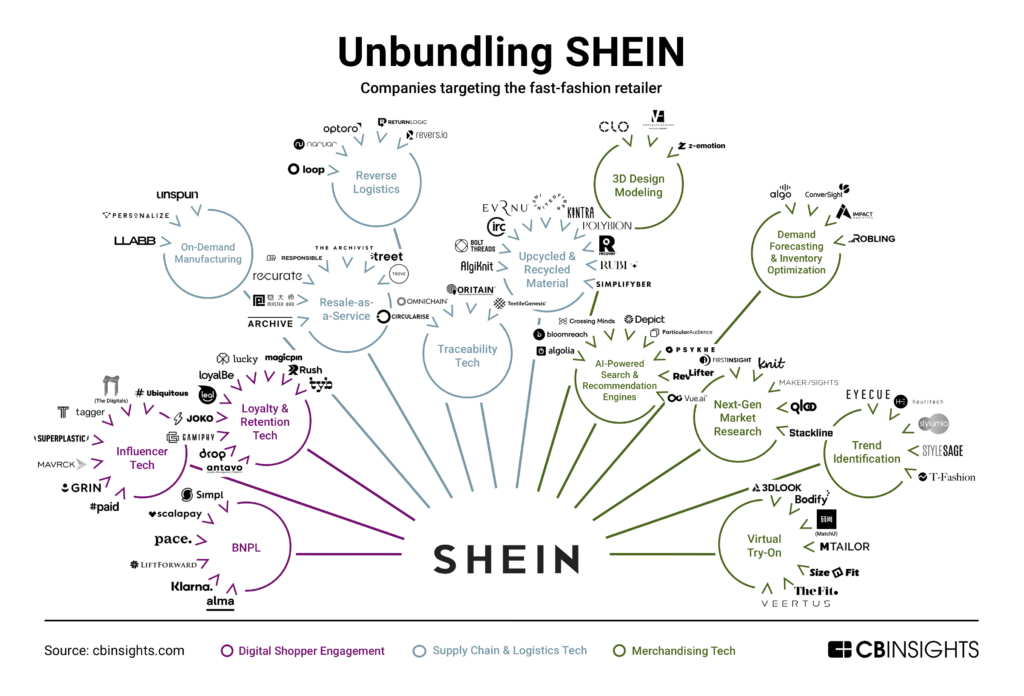 Note: This graphic is not exhaustive of the space. Categories are not mutually exclusive.
Category breakdown
We categorize technologies and products unbundling SHEIN across 3 segments:
Digital Shopper Engagement:

This segment features customer engagement tools that enable omnichannel and personalized customer experiences to help brands better engage their audiences.

Supply Chain & Logistics Tech:

These companies enable and streamline retailers' backend operations and returns.

Merchandising Tech:

This space includes new ways to present traditional retail products, leveraging tools like demand forecasting and 3D design modeling.
Digital Shopper Engagement
BUY-NOW, PAY-LATER (BNPL)
BNPL services allow consumers to purchase items through flexible, interest-free installments via online and offline point-of-sale (POS) systems. BNPL users, like most fast-fashion customers, are typically Gen Zers and millenials.
Across industries, BNPL is changing the way consumers spend. It is also differentiating retailers that are more in tune with their customers' needs. In a recent C+R Research survey, over half of users reported that they prefer BNPL over using their credit card to make purchases in increments.
Major retailers like Lululemon, Urban Outfitters, and Target have already embraced BNPL as a payment option.
BNPL provider

Klarna

partners with merchants to help consumers pay for their large purchases over time. Klarna says it has 147M active users, 400K+ retail partners, and facilitates 2M transactions every day. 

Companies like

Alma

enable businesses to offer their customers BNPL options as well as manage customer spend and store sales by completely digitizing their payment systems.
INFLUENCER TECH
SHEIN has laid a framework for using social media influencers as a marketing tool. The retailer offers a flat rate to influencers who receive free merchandise in exchange for creating a "haul" video, where they display items with links back to the site.
The retail giant also has introduced a reality show where young designers compete to win a $100,000 prize and have their designs sold on the SHEIN website. 
The influencer marketing industry is projected to reach $16.4B in 2022 — and consumers are paying close attention to what influencers have to say about brands. After seeing posts with product information on Instagram, over 87% of users surveyed by Meta took action to either learn more about the brand or make a purchase.
Mavrck

is an influencer marketing platform that helps businesses discover and manage influencers that best serve a brand's target audience. This year, it raised $135M in growth equity from

Summit Partners

.

The Diigitals

is taking an alternative approach to influencer marketing by using 3D models instead of people to showcase clothing on digital sources.
LOYALTY & RETENTION TECH
Retailers are seeking new ways to engage their customers online and offline. Acquiring a new customer can cost anywhere from 5 to 25 times more than retaining an existing one.
One way tech is enhancing customer retention is by gamifying rewards. Businesses like

Gamiphy

offer incentives in the form of virtual currency or coupons that help buyers have fun making purchases and feel like they are valued for staying loyal to a brand.

Other companies boost loyalty by being transparent about shipment time. For example,

Rush

allows e-commerce brands to personalize their tracking experience, provide personalized messages to their customers, and even send promotion codes after packages arrive.
Supply Chain & Logistics Tech
ON-DEMAND MANUFACTURING
SHEIN's hallmark model of micro batch production (about 50-100 garments in a specific style) has heightened the importance of on-demand manufacturing in fast fashion. The company can produce small, hyper-specific clothing lines that are forcing fast-fashion retailers to squeeze the production timeline even further.
Retailers are looking at technologies that help them reduce inventory, run shorter and more targeted seasons, and quickly satisfy consumers with varying tastes and preferences.
vPersonalize

is a SaaS company that provides tools to customize clothing and provide on-demand manufacturing at a commercial level. The US-based company last raised $1M in 2018 in equity funding.

H&M reported approximately $4B worth of unsold inventory in 2018. In an effort to eliminate losses associated with unsold clothes, on-demand denim manufacturer Unspun partnered with Weekday, an H&M Group brand in late 2020 to produce custom fit, made-to-order jeans.
RESALE-AS-A-SERVICE
Through reselling used goods, brands can reduce their carbon footprint and provide clothes for consumers often at a significant markdown. Fast-fashion retailers like Pretty Little Thing and Boohoo recently announced moves to introduce resale services on their platforms. On third-party platforms, however, retail clothing businesses fail to capture any value in resale other than brand recognition.
Companies are disrupting the resale-as-a-service space by enabling brands to embed used-goods marketplaces in their own e-commerce platforms. These platforms also enable brands to engage price-conscious consumers without releasing new products.
Recurate

offers a fully integrated resale marketplace that e-commerce businesses can add to their websites. The solution adds trust and security features, like product authentication and buyer protection, which typically are not included in third-party resale applications.
REVERSE LOGISTICS
Over 20% of all online purchases are returned, according to Industry Dive. When it comes to reverse logistics, businesses are looking to make returns more cost effective and less wasteful.
Companies are taking a variety of approaches to disrupting returns, with some offering shopper-facing solutions and others working primarily with retailers on the back-end.
Narvar

offers a service that allows customers to drop off packages at 200K+ locations to be returned, schedule home pickups for returns, and receive notifications on returns in-transit. The company also gives brands the option to reward loyal & VIP customers with cheaper return policies.

Optoro

's service gives customers flexibility of dropping returns off without using labels or return packages. The service benefits both consumers and businesses through convenience, reducing costs of packaging as well as carbon emissions.
TRACEABILITY TECH
Traceability tech closely tracks inputs along the supply chain. This will become more important as government regulation and consumer demand increase for sustainable practices, such as tracking carbon footprints and monitoring the health and safety of workers along the supply chain.
Blockchain technology can help track the path products take, enabling brands to source products ethically and sustainably and improve collaboration and traceability up the supply chain. SaaS companies

Omni Chain Solutions

,

Circularise

, and

Textile Genesis

use blockchain tech to improve supply chain transparency and efficiency for retailers.

Meanwhile,

Oritain

collects and audits samples of organic fibers and determines whether or not they were sourced ethically and sustainably by tracking where they originated.
UPCYCLED & RECYCLED MATERIAL
Governments have voiced concern and calls to action regarding waste in the fashion industry. For example, the EU environment commissioner Virginijus Sinkevičius proposed earlier this year that by 2030, all clothes should be "long-lived and recyclable," made primarily from recycled fibers.
Customers are also demanding more natural fibers — approximately 72% of consumers want to buy clothing that is made from natural fiber, like cotton, wool, or silk, according to US Sustainability Research. However, repurposing clothing made from these textiles has been difficult to achieve at scale.
To combat the issues surrounding clothing waste and promote upcycling, manufacturers are turning to alternative fibers to create garments.
Evrnu

has a patented technology that breaks down cotton-based textile waste and turns it into a fibrous raw material.

Other companies, like Mexico-based

Polybion

, produce high-performance and sustainable biomaterials made from fruit waste that mimic leather. The company raised $4.4M in Series A funding in March 2022.
Merchandising Tech
3D DESIGN MODELING
Traditional design processes in fashion are often tedious and can take anywhere from 3 to 8 months for a style to reach production, per McKinsey. 3D asset creation companies are working to generate more efficient and seamless designs that enter the market in a fraction of the time.
CLO Virtual Fashion allows designers to make changes via its garment simulation and modify clothes right before they start production. Similarly, South Korea-based Z-Emotion lets retailers tweak pre-existing 3D clothing models and build new garments without starting from scratch.
AI-POWERED SEARCH & RECOMMENDATION ENGINES
AI-powered search & recommendation solutions can drive up online conversion rates and improve satisfaction by personalizing each customer's buying journey.
Data privacy and personalization have difficulty coexisting in the online world.

Crossing Minds

' and

Bloomreach

's platforms aim to bridge the gap between the two. Their algorithms make product recommendations based on on-site actions like clicks instead of third-party data.

PSYKHE

aims to disrupt engines that try to find patterns solely by clicks, and instead offer personality tests to help match customers with products that are aligned with their taste.
DEMAND FORECASTING & INVENTORY OPTIMIZATION
Forecasting and planning output effectively is crucial for retailers competing in the fast-fashion space. 
Brands are increasingly turning to tech that enables faster and more accurate data-driven decision-making. SaaS companies specializing in demand forecasting and inventory optimization rely on data and modeling to predict which styles will perform the best in the marketplace.
CoverSight

,

Impact Analytics

, and

Algo

use AI to predict consumer demand and buying behavior and help maintain equilibrium in a brand's inventory. 

Robling

offers inventory management and demand planning through its data infrastructure service. Retailers can then focus more on creative data-driven decisions rather than data cleaning and organizing.
NEXT-GEN MARKET RESEARCH
Next-gen market research helps brands discover more about their current target customers and new demographics. Retailers are using technologies tailored to capture consumer sentiment and provide insights into buying decisions.
While surveys and focus groups are nothing new, retailers are increasingly using data-driven services that streamline communication channels between their businesses and consumer bases.
Knit

allows Gen Z consumers to give feedback to retailers in real time via video chat. Its video-based surveys allow businesses to be hyper-focused with the demographics of their target audience.

MakerSights

and

First Insight

collect and assess consumer preference data. They analyze consumer feedback on specific styles to help brands make more informed design and production decisions.

Qloo

is a recommendation engine service that helps businesses understand consumer preferences based on entertainment, cultural, and consumer product-driven data points, such as which clothing styles New Yorkers who like pop music are wearing. 
TREND IDENTIFICATION
Trend identification tech helps brands zero in on consumer demand and understanding products — namely, what colors, patterns, styles, and fabrics will be in style for the next season.
Forward-looking brands are increasingly turning to software and digital tools that are identifying clothing and style trends at scale. Many companies focus on analyzing visual data, such as images and videos from social media, to help retailers deliver the best clothing to their target audience.
Heuritech and T-Fashion both offer services for retailers that involve predictive analytics on clothing trends. Using AI to translate images shared on social media, brands are able to identify what color, shape, print, and fabric consumers are wearing.
VIRTUAL TRY-ON
Virtual try-on technologies allow consumers to see how clothes look and fit without leaving a brand's website.
Not only do virtual try-ons improve the customer experience, they can also lower the costs associated with returns.
Retail giants like Alibaba, Amazon, Kering, and Nike have already made notable business relationships with tech companies in the virtual try-on space.
With

3DLOOK

and

The Fit

, consumers take a few photos that are scanned to analyze body shape. The AI interfaces then use that data to provide recommendations for the best clothing size.

Size n Fit

eliminates the need for photos and takes user inputs via a survey of height, weight, wearing preference, and body shape alongside favored brands to provide personalized clothing recommendations. 
If you aren't already a client, sign up for a free trial to learn more about our platform.