From marketing attribution to reverse logistics, we've identified the tech solutions retailers should prioritize to protect their margins.
Today's macro environment is harsh, with inflation, recession fears, and inventory surpluses creating a challenging environment for retailers to navigate. And these challenges are top-of-mind for corporates: earnings transcript mentions of "inflation" or "recession" have seen a steady increase from corporates over the last year.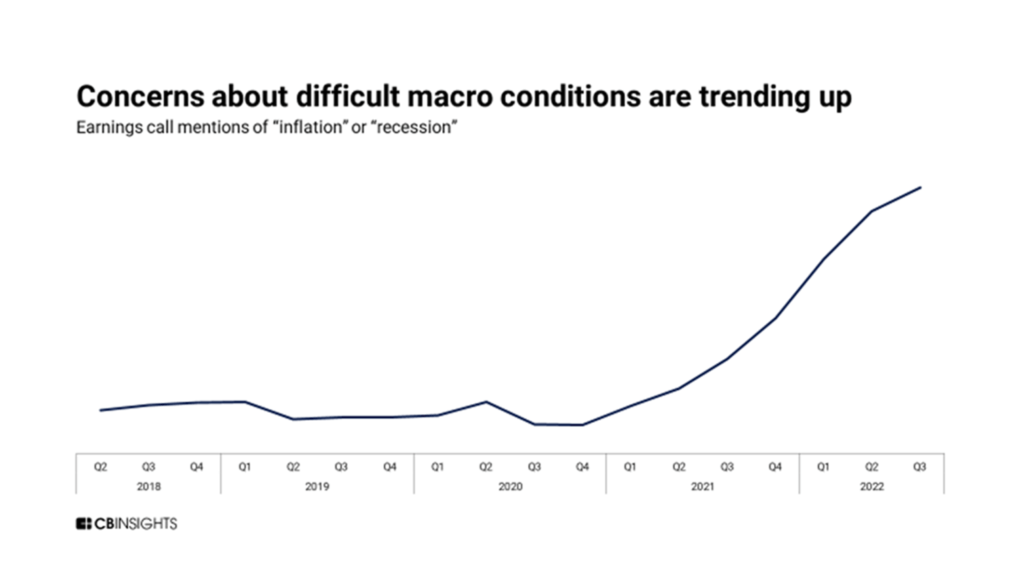 However, with technology becoming more foundational to successful operations in both good and bad times, sending tech spend to the chopping block amid recession fears is no longer an option. Rather, investing in tech has become even more necessary to propel efficient, scalable operations. According to a survey by the CNBC Technology Executive Council, more than 75% of companies expect to increase their tech spend this year. 
In a challenging macro environment, leaders will want to consider whether their technology spend is helping to deliver meaningful cost savings and protect their margins.
We examined 13 tech solutions retailers should evaluate in the coming months, based on their cost savings potential and time to implement, across 3 categories:
Labor & store operations

Supply chain & inventory

Marketing & digital engagement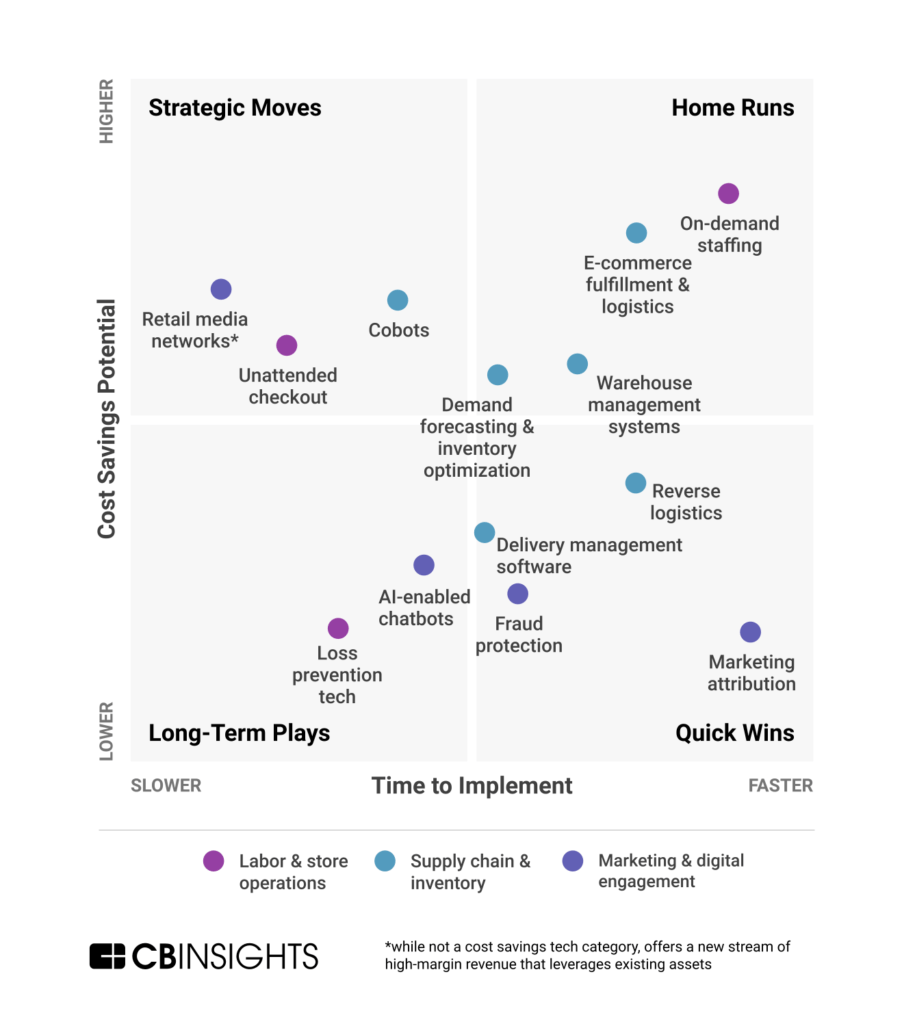 Rankings are relative to one another and not on an absolute scale. Technologies evaluated are considered across two metrics: 
Time to Implement — Estimates time needed to implement the technology, based on factors like the type of solution (e.g., hardware vs software) and data submitted in proprietary Analyst Briefings.
Cost Savings Potential — Estimates potential bottom-line savings based on factors like cost savings metrics found in case studies and data submitted in proprietary Analyst Briefings.
If you'd like to conduct a briefing with our analysts on your company, submit an Analyst Briefing here. 
Labor & store operations
1. UNATTENDED CHECKOUT
Quadrant: Strategic moves
Cost savings potential: Medium
Time to implement: 1 — 6 months
What is unattended checkout? These companies make solutions that speed up checkout by largely eliminating interaction between shoppers and employees and preventing line formation. So far in 2022, these checkout startups have raised $175M in equity funding vs. $256M in all of 2021.
Computer vision systems that track shoppers through stores and allow them to simply "walk out" with their items have garnered the most attention. These platforms often integrate shelf sensors as well. Other tools are also helping the concept gain more traction with retailers, including mobile self-scanning apps and smart self-scan shopping carts.
Timeline & benefits: Unattended checkout tec offers both short- and long-term cost savings. These solutions generally require implementation times of anywhere from 1 to 6 months, which depends in part on store size, the specific technology solution, and the number of locations where it is being deployed. Solutions that can be easily retrofitted to existing stores are likely to see faster deployment times.
Additionally, unattended checkout solutions can help redistribute labor to more productive uses elsewhere, with some stores reporting 9 staff hours saved every week. These solutions also have top-line benefits, such as larger basket sizes, and can improve the shopping experience by improving one of in-person shopping's biggest bottlenecks: over half of consumers say they would switch stores for a better checkout experience.
Companies to watch: 
AiFi

raised $65M in a Series B that drew participation from Aldi, HP Tech Ventures, and Verizon Ventures, among others. AiFi has recently expanded to offer stores for music festivals and NFL stadiums, reducing average transaction and queue wait time by 50%. The company recently partnered with

Carrefour in France

 to launch a 10/10 Flash concept store.

Companies like 

Grabango

use a combination of smart cameras, shelf sensors, and AI that allow in-store shoppers to grab products, walk out, and be charged automatically. The company has implemented its solution in a GetGo Cafe + Market, a convenience store run by midwest grocer Giant Eagle.

Israel-based 

Trigo

, a computer vision-powered retail platform, has raised $105M in total funding. It is used by retailers like Tesco, Aldi, and Rewe. 
For more of these players, see our contactless self-checkout ESP. 
2. LOSS PREVENTION TECH
Quadrant: Long-term plays
Cost savings potential: Low
Time to implement: 2 — 3 months
What is loss prevention tech? Retailers use loss prevention tech to monitor, deter, and stop shoplifting (or "shrink"). The tools in this category take on a variety of forms. Some solutions deploy AI through store cameras to monitor and identify shoplifters. Other firms make loss prevention management software. Solutions also include smart anti-theft sensors that attach to vulnerable items, like apparel or liquor bottles; the tags release when shoppers use mobile PoS systems to buy the items.
Preventing shrink has increasingly become a concern, with 75% of retailers citing an uptick in organized retail theft over the last year.
Timeline & benefits: These solutions aim to reduce shrink, which costs around 1.6% of retail profits every year. Implementation times vary, but some solutions point to around two months for deployment. 
Companies to watch:
Ireland-based 

Everseen

's

platform leverages AI and works across sensors, cameras, and devices in both the front and back of the store to manage loss prevention. The company has partnered with Kroger as well as

stores across Europe and the US

.

Rapitag

combines mobile checkout with anti-theft security sensors that allow consumers to purchase products without staff assistance or waiting in line. After deploying its solution for consumer electronics company

o2

 in Germany, 

the store reportedly experienced no thefts during a six-month trial phase

.
3. ON-DEMAND STAFFING
Quadrant: Home runs
Cost savings potential: High
Time to implement: <1 month
What is on-demand staffing? On-demand staffing platforms allow companies to find workers that can either fill temporary positions or cover shifts on short notice. 
Some platforms offer metrics on workers, like reliability ratings, or use job-worker matching algorithms that increase the chances of finding high-quality workers with relevant domain experience. 
This space has seen heightened deal activity in 2022. So far this year, on-demand staffing platforms have seen 12 deals, compared to 5 deals in 2021. 
Timeline & benefits: Retailers can expect relatively fast implementation times (one month or less), given that most of these solutions are ready-to-use software solutions that do not require significant input data or integration with other platforms. 
On-demand staffing solutions could help mitigate productivity losses and store closures stemming from labor shortages. Turnover rates are running high in sectors like grocery and retail, and absenteeism is currently costing restaurant businesses more than 15% of profits annually, according to a study out of University of Maryland Baltimore County. 
Moreover, these solutions could be particularly useful during peak holiday season periods to quickly and efficiently flex hiring up and down with fluctuating demand.
Companies to watch:
Snagajob

, which has helped fill hourly worker jobs at companies like Chipotle and Michael's, says that it fills 

70% of shifts in just 10 minutes

.

Oregon-based 

Wonolo

 helped Driveline Retail meet a 

7x increase in demand for workers while reducing the cost of hiring by 37%

.
For more of these players, see our on-demand staffing ESP. 
Supply Chain & Inventory
4. COLLABORATIVE ROBOTS (COBOTS)
Quadrant: Strategic moves
Cost savings potential: Medium
Time to implement: 1 — 3 months
What are cobots? Collaborative robots (cobots) are smaller robots on the factory floor that generally have a high degree of customization and work alongside people. These are designed to enhance the worker capabilities, not replace them.
Typical features of collaborative robots include customization to various applications, modularity, and varied processing capabilities.
The space has seen a sharp increase in funding and deal activity so far in 2022, with startups raising $827M across 24 deals so far this year (vs. $331M across 15 deals in 2021).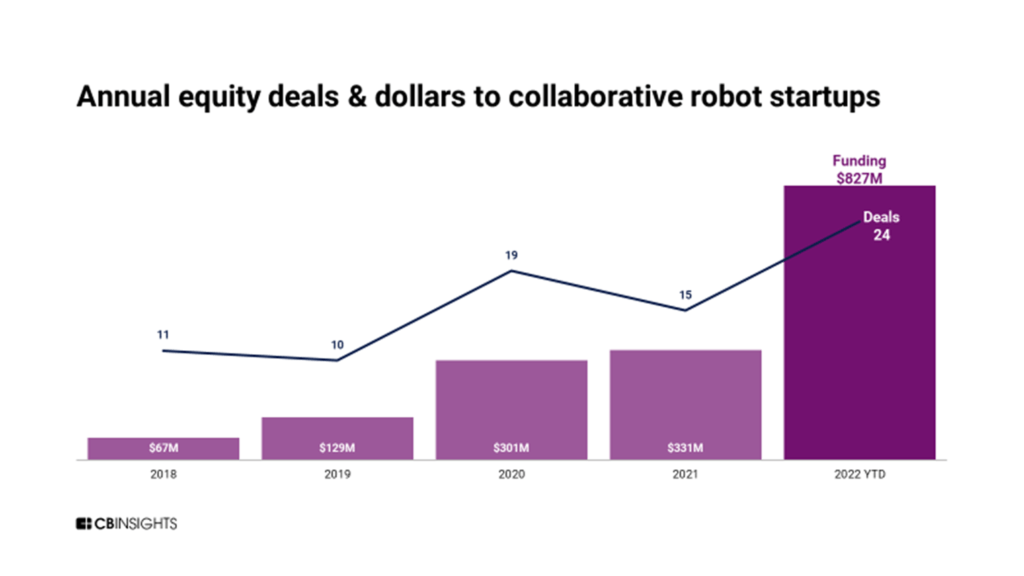 Timeline & benefits: Because collaborative robots are designed to supplement human labor, manufacturers can benefit from higher production output and a quick ROI. For example, OnRobot reports helping one client reduce its cycle time by nearly half, saving 500 worker hours for an ROI of 9 months.
Besides helping to alleviate hiring needs and reducing turnover, most cobot solutions have an implementation time of 1 to 3 months or less.
Companies to watch:
Exotec

develops robots that help move bins around the warehouse for retailers like Gap and Uniqlo. In January 2022, the company raised $335M in Series D funding at a $2B valuation. 

Seegrid

, which raised $30M in Series C funding in July 2022 from investors including grocer Giant Eagle, makes autonomous robots for warehousing, manufacturing, and logistics.
If you want to see more of these players, see our collaborative robots ESP.
5. DELIVERY MANAGEMENT SOFTWARE
Quadrant: Quick wins
Cost savings potential: Medium
Time to implement: 1 — 3 months
What is delivery management software? Cloud-based delivery management providers unify fulfillment and delivery models, allowing retailers to track how an item is ordered, where inventory is located, and how an order will be fulfilled all from a single platform.
Real-time data around shipment tracking and visibility can help retailers make more informed decisions and quickly respond to disruptions. 
Last-mile delivery orchestration solutions provide supply chain operators with a number of capabilities and tools, including: 
Dynamic quoting and self-scheduling

Intelligent dispatching and routing for on-time delivery at a low cost

Real-time delivery tracking and live updates both for shippers and end customers
Timeline & benefits: Retail customers report substantial benefits from delivery management software solutions, including transit cost savings, reduced shipment exceptions, improved workforce efficiency, and increased delivery accuracy. There is particularly an urgent need to reduce costs at the last mile.
Some startups here have pointed to stats such as a 15% reduction in fleet miles or a 25% reduction in extra resource costs from deploying their delivery management software. Most solutions take 1 to 3 months to implement.
Companies to watch:
Companies like 

LogiNext Solutions

 and 

Bringg

 are developing delivery automation platforms to more effectively connect the various stakeholders involved in last-mile delivery and speed up delivery times.

UK-based 

Sorted

, which has raised $81M in total funding, offers delivery management and post-purchase tracking. It is used by retailers such as

Asos, Asda, and Farfetch

.

Onfleet

raised $23M in Series B funding in June 2022 to help retailers plan and optimize their delivery routes to increase delivery capacity. 
If you want to see more of these players, see our delivery management software ESP and market trend report.
6. DEMAND FORECASTING & INVENTORY OPTIMIZATION 
Quadrant: Home runs
Cost savings potential: Medium
Time to implement: 1 — 3 months
What is demand forecasting & inventory optimization? Demand forecasting & inventory optimization platforms leverage sales data and other relevant metrics to improve inventory planning.
These solutions often feature: 
Demand-driven planning

Automated replenishment and allocation 

Promotion optimization 

Supply chain collaboration
The stakes are high when it comes to avoiding both overstocks and understocks: deadstock costs retailers an estimated $50B annually, while out-of-stocks and understocks cost retailers across the globe more than $1T in lost revenue each year, according to IHL Group. 
Timeline & benefits: Most demand forecasting & inventory optimizations solutions offer implementation times of 1 to 3 months, while the fastest solutions can be deployed in as little as 1 to 3 weeks. 
Categories where waste is a growing concern, such as food and grocery, may see higher returns from these platforms, with newer entrants creating more targeted solutions (e.g., focusing on perishables) that leverage more sophisticated AI and predictive analytics. 
Companies to watch:
Pensa Systems

, which offers an indoor flying drone that uses cameras to provide live inventory visibility in stores, has worked with Johnson & Johnson to monitor its in-stock rates at its biggest retail partners. The company reported that Johnson & Johnson could increase sales by 5% if it changed reordering practices to improve on-shelf availability. 

Using fixed cameras that can be secured to existing shelves,

Focal Systems 

provides real-

time inventory monitoring with the aim of increasing on-shelf availability and boosting sales. The company has worked with retailers including Walmart.
For more of these players, see our demand forecasting and inventory optimization ESP. 
7. E-COMMERCE FULFILLMENT & LOGISTICS
Quadrant: Home runs
Cost savings potential: High
Time to implement: <1 month
What is e-commerce fulfillment & logistics? As e-commerce adoption accelerates, various e-commerce fulfillment & logistics companies have emerged to help sellers more quickly and easily fulfill online orders, providing services such as storage, order processing, and product shipping.
Typical features of e-commerce fulfillment & logistics solutions include:
Access to a network of fulfillment centers to enable distributed inventory

Express shipping (most often domestically, but sometimes internationally)

Order and inventory management

Reporting and analytics

End-to-end customer experience (e.g., customized packaging, order tracking)
There was a sharp influx of funding to these startups in 2021, which saw over $2B in equity funding across 36 deals, compared to $355M across 10 deals so far in 2022.
Timeline & benefits: Profit margins tend to take a hit with rising e-commerce penetration, largely due to the cost of fulfilling online orders, while consumer expectations for convenience and fast shipping times are not going away. 
Companies can reduce costs by outsourcing fulfillment to e-commerce fulfillment providers, which can achieve economies of scale by aggregating orders across their customers and integrating with a network of partners (e.g., 3PLs, POS system providers, and retailers). Some solutions say they can reduce shipping costs by 25% and improve bottom lines by 13%. 
Many companies in this tech category are able to get up and running relatively quickly, with implementation times of around 1 to 3 weeks.
Companies to watch:
For more of these players, see our e-commerce fulfillment & logistics ESP and market map of supply chain optimization in retail.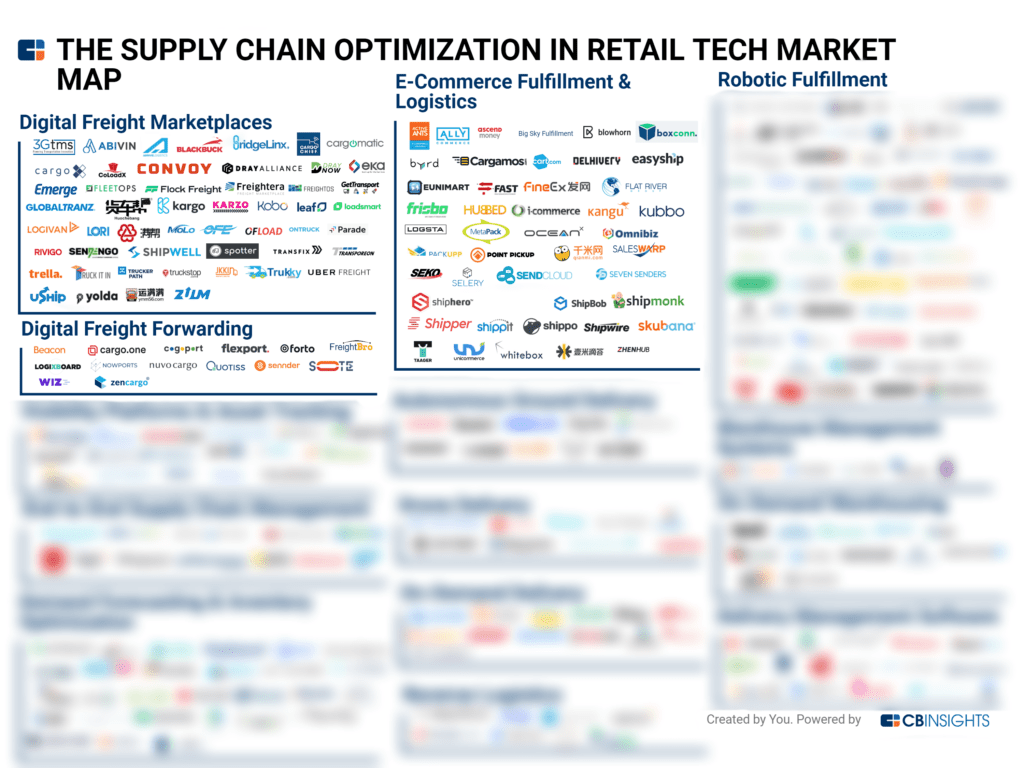 8. REVERSE LOGISTICS
Quadrant: Quick wins
Cost savings potential: Medium
Time to implement: <1 month
What is reverse logistics? Reverse logistics solutions leverage end-to-end inventory management tools and data analytics to help retailers and brands manage and streamline returns processes more effectively. While some companies offer shopper-facing solutions, others work primarily with retailers on the back end.
Depending on their business model, reverse logistics solutions can offer the following capabilities:
Real-time data and visibility into the returns process

Proactive, personalized communication channels with customers

Physical drop-off/pick-up locations

Liquidation platforms that allow retailers to offer returned inventory to B2B secondary inventory buyers

Markdown solutions that help retailers and brands maximize inventory recovery
There have been several deals in the returns space recently, including Affirm's $300M acquisition of Returnly and Paypal's acquisition of Happy Returns for an undisclosed amount.
Timeline & benefits: Returns negatively impact profits: by some estimates, it costs about $33 to process a return for an item that sold for $50. To combat this, some reverse logistics startups say they can reduce return expenses by 57%. 
And given the explosive demand for e-commerce in recent years, reverse logistics has become a priority for retailers in order to maintain customer loyalty and reduce costs during the return process. Return rates tend to be higher for e-commerce compared to physical retail stores: 15% — 40% for online orders, compared to around 5% — 10% for in-store purchases. 
While pure SaaS solutions are likely to have faster deployment times, with some startups saying they can deploy their offering in less than a week, expect higher deployment times for those that include additional ancillary services such as warehousing and logistics.
The environmental impact in the returns space also makes this technology a promising area of investment, as sustainability remains a major consumer priority.
Companies to watch:
For more of these players, see our reverse logistics ESP. 
9. WAREHOUSE MANAGEMENT SYSTEMS
Quadrant: Home runs
Cost savings potential: Medium
Time to implement: 1 month
What are warehouse management systems? Warehouse management systems digitize and streamline warehouse operations by bringing all tasks onto a single platform. These systems typically come equipped with features such as inventory management, order picking and replenishment, and labor optimization.
Warehouse management platforms typically tackle tasks such as:
Warehouse operations (picking and packing, return management, cycle counting)

Warehouse productivity (multi-warehouse operations, scaling)

Warehouse optimization (order routing, inventory allocation, robotics integration)
Timeline & benefits: Given unprecedented e-commerce demand and labor shortages, optimizing warehouse operations has become crucial, with the global warehouse management systems market expected to be worth over $5B by 2025. These tech solutions aim to make warehouse management more efficient and reduce errors. 
Retailers can expect implementation times of around a month, as most of the startups in this category are software-based solutions. These solutions offer benefits such as faster picks per warehouse worker and fewer errors, translating to operating cost savings due to lower shipping costs and higher labor productivity, with some companies claiming to increase labor efficiency by up to 40%.  
Companies to watch:
Logiwa

 focuses on cloud warehouse and inventory management for high-volume 

B2C and D2C retailers

. It raised a $16.4M Series B round in July 2022.

California-based 

3PL Central

reports that its solution can save customers over

$8K in labor every month and increase annual order volumes by 22%

.

Colombia-based 

Pulpo

is a warehouse management system that reports that it reduces operating costs by

30% — 5

0

%. 
To learn more, see our MVP Technology Framework: Supply Chain Optimization Tech for Retailers.
Marketing & digital engagement
10. AI-ENABLED CHATBOTS
Quadrant: Long-term plays
Cost savings potential: Low
Time to implement: 1 — 3 months
What are AI-enabled chatbots? AI-enabled chatbots automate voice- and text-based interactions between customers and companies. These solutions are leveraging advancements in conversational AI, including natural language processing, understanding, and generation.
This category includes both plug-and-play solutions, which are pre-trained to answer most common questions, and tailored solutions that require training on a retailer's proprietary data.
Timeline & benefits: AI-enabled chatbots can help automate a significant share of customer requests, offer 24/7 support across channels, and scale customer service departments in a cost-efficient way. Most AI-enabled chatbots can automatically answer 60% to 70% of requests, helping to convert more online customers.
Most solutions can be deployed in 1 to 3 months, while the fastest solutions in this category can be deployed in less than a week. Generally, pre-trained bots will be quicker to deploy than those that have to be trained on company data, but the latter will be fully tailored and more accurate in the long run.
In this category, success is often measured by improved productivity, call resolutions, and deflection rates, and these metrics can translate into up to a 30% reduction in customer service costs. Beyond improvements in metrics tied directly to an improved bottom line, AI-enabled chatbots also offer more qualitative benefits such as increased support and reduced stress for customer service staff, as well as improved customer experience.
Companies to watch:
Norway-based

Boost AI

 works with e-commerce retailers to automate over 

a million requests during peak season

 for tasks such as order support and personalized recommendations.

Singapore-based 

Wiz Holdings

, which raised a $30M Series A in June 2022, reports

expected cost savings of 70% from

 its e-commerce chatbot solution.

Conversational commerce is growing in this category with startups like

Wizard

 and 

Kata.ai

. Wizard is a conversational commerce software developer that offers AI-powered conversational tools for e-commerce businesses, allowing them to connect with their customers via text messages to accelerate the rate of sales and purchases. It has received investment from New Enterprise Associates and Accel. 
For more of these players, see our AI-enabled chatbots ESP. 
11. FRAUD PROTECTION
Quadrant: Quick wins
Cost savings potential: Low
Time to implement: 1 — 3 months
What is fraud protection? Companies in the fraud protection space provide software-as-a-service (SaaS) fraud and chargeback prevention technology. The tech uses behavioral analysis and machine learning to verify customers' identities to prevent account hijacking and fraudulent transactions.
Companies in this space may offer tools that protect user accounts and payments, identify illegitimate transactions, prevent abuse of purchase and return policies, and support cross-border expansion.
As more people shop online, e-commerce companies are increasingly targeted by fraudsters. Every $1 of fraud now costs US retail and e-commerce merchants $3.60 — 15% more than it cost 2 years ago. 
Timeline & benefits: Across the retail industry, online return fraud costs an estimated $23B, while startups say they can help retailers recoup 5% — 7% of their revenue. Most solutions can be implemented in 1 to 3 months, with the fastest solutions available 1 to 3 weeks. 
Companies to watch:
Forter

 is a fraud prevention platform that works to distinguish fraudulent transactions from real ones for retailers like 

Nordstrom

. The company has a valuation of $3B and last raised $300M in Series F funding in May 2021.

Arkose Labs

 provides online fraud prevention technology combining 

user risk assessment and enforcement challenges

. 

Anti-fraud startup 

Signifyd

 has worked with retailers such as Walmart and eBay to determine whether purchases are from legitimate customers. 
For more of these players, see our fraud protection in consumer & retail ESP.
12. MARKETING ATTRIBUTION
Quadrant: Quick wins
Cost savings potential: Low
Time to implement: <1 month
What is marketing attribution? Marketing attribution tech providers offer insights around digital marketing channel effectiveness that can help inform advertisers' spending decisions. Some of these solutions focus on closed-loop attribution — providing a direct link between targeted ads and sales — to help improve return on ad spend (ROAS) for advertisers.
Marketing attribution solutions typically:
Track touchpoints and link them back to sales and clicks

Optimize campaigns based on gathered data
So far in 2022, the space is on track to surpass total funding seen in 2021, with startups raising $369M across 6 deals to date.
Timeline & benefits: This technology can provide better methods of attribution, helping advertisers improve their ROAS thanks to closed-loop measurement (e.g., online ad leads to in-store purchases) among other capabilities. Marketing attribution solutions can boost retailers' ability to capture a greater share of digital ad spend and increase conversions.
Nearly two-thirds of retailers increased their digital marketing spend this year, per a survey by Digital Commerce 360. These startups also can also help brands and retailers decrease their cost per acquisition (CPA) — an important benefit, as over half of surveyed retailers said that at least 30% of their marketing budget goes to customer acquisition alone.
Most solutions can be deployed in 3 weeks or less.
Companies to watch:
AppsFlyer

, a 

marketing data analytics and mobile attrition platform

, works with companies such as

Walmart, Macy's and Alibaba

to help them understand how to increase customer conversions and optimize campaigns. The company has raised $303M in total funding.

Marketing analytics platform 

Measured

helps retailers understand their marketing spend and how to efficiently allocate it to different channels, identifying areas where ad spend may be being wasted. 
For more of these players, see our marketing attribution ESP.
13. RETAIL MEDIA NETWORKS
Quadrant: Long-term plays
Cost savings potential: High*
Time to implement: 6+ months
*While not a cost-savings tech category, retail media networks offer a new stream of high-margin revenue that leverages existing assets.
What are retail media networks? Retail media networks are digital advertising businesses run by retailers on their own digital real estates, such as websites, apps, and digital screens. By creating their own media networks, retailers can capture a greater share of advertisers' digital marketing spend while helping their suppliers better target shoppers.
Retail media ad spend in the US is expected to increase by $10B this year, representing 17.2% of total digital ad spending (up from 14.9% in 2021), according to eMarketer. As a high-margin business, retail media networks represent one way to counter falling profit margins that have been negatively impacted by rising online sales.
Amazon is already generating over $30B in annual revenue from its advertising business, while grocery retail giants such as Walmart and Carrefour have announced significant investments in their respective retail media networks over the past year. 
The space has seen a rise in funding this year, with startups raising $323M so far this year across three deals. 
Timeline & benefits: Building out these platforms from scratch can take months or years, depending on the approach and scope. Working with full-stack solutions or partnering with other startups specializing in different technical aspects of building a retail media network can speed this up. Prioritizing the right tech solutions to invest in and tech vendors to partner with will be key to capturing a bigger slice of the digital advertising cake. 
Companies to watch:
Most full-stack retail media networks are being spearheaded by public companies. For example, French grocery retailer Carrefour powers its retail media network through strategic partnerships with

Google Cloud Platform

, 

LiveRamp

, and 

Criteo

. Carrefour serves 80M households annually, giving the company one of the largest data lakes in Europe. The company used this data to launch its retail media network platform, Carrefour Links, in Q2'21.

Advertiser solutions company 

Epsilon

 worked with L'Occitane to use its retail media network to acquire new customers.  
For more of these players, see our retail media network tech market map and MVP framework.
If you aren't already a client, sign up for a free trial to learn more about our platform.