Consumer electronics giant Best Buy is expanding its presence in healthcare. We dig into the company's strategy across remote patient monitoring, medical devices, and digital therapeutics.
For decades, Best Buy has been one of the leading consumer electronics retailers in North America. With more than 1,000 stores across the US and Canada, the company brought in over $50B in revenue in 2021, mainly driven by sales of consumer electronics such as laptops, desktop computers, and smartphones. 
However, in recent years the company has been heavily focused on expanding into healthcare, building out a dedicated tech-enabled offering for at-home care as the aging population increasingly looks to age in place. Nearly 90% of adults 65 and older want to live in their homes, which presents opportunities to introduce tech-enabled monitoring and engagement solutions.
Healthcare presents a substantial revenue opportunity for Best Buy. Estimates put the US healthcare market at $4.1T today, while the global at-home healthcare market is slated to reach $391B by 2025, per CB Insights' Industry Analyst Consensus.
Corporates are heavily focused on the opportunity in at-home care, with discussions of remote patient monitoring surging on company earnings calls in recent quarters.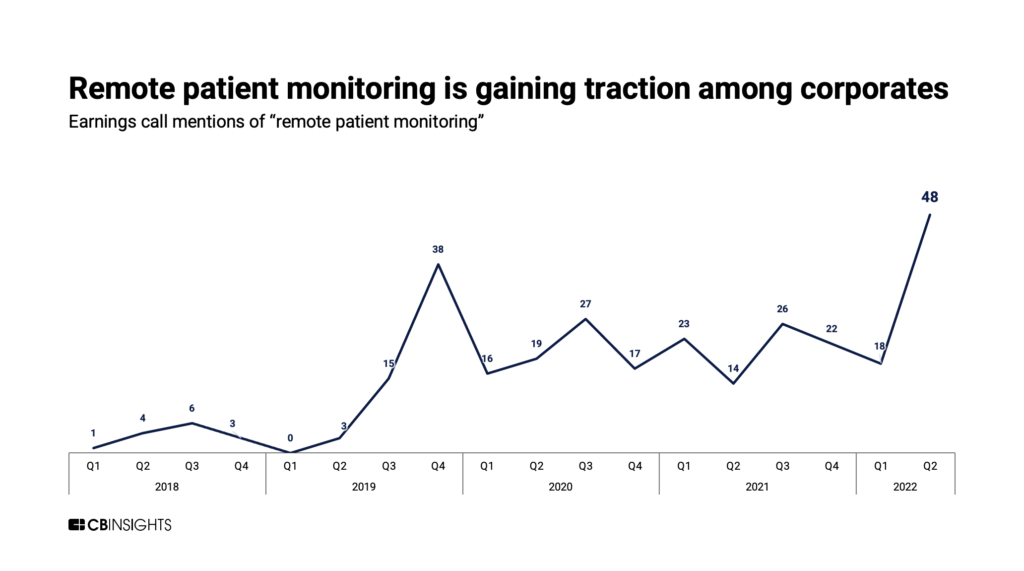 The consumerization of healthcare is helping drive Best Buy's focus on the space, as the rise of telehealth and remote diagnostics reshapes patient care — presenting an opportunity for the company to expand its reach across the consumer experience. 
Entering the healthcare space is also a defensive move for Best Buy's retail business, allowing the company to hedge against supply chain disruptions and increasing competition from Amazon, both of which have threatened its main consumer electronics business.
Best Buy's existing Geek Squad customer service workforce — which is comprised of more than 20K agents already making approximately 9M home visits a year to help customers with tech setup and use — makes the company well-positioned to take on the opportunity in at-home care. Best Buy can also leverage existing relationships with healthcare device buyers.