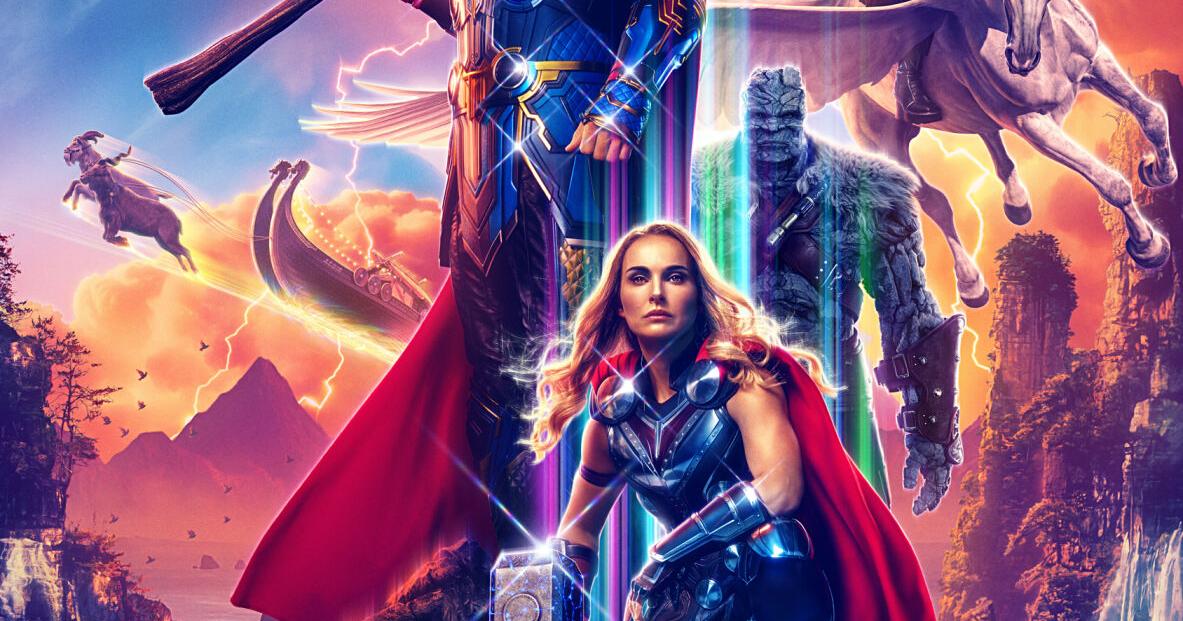 Recap of films from the weekend of July 7-10 | Events Calendars
OPENING
"Thor: Love and Thunder" – (Action, PG-13, 125 minutes). Thor gets help from King Valkyrie, Korg, and ex-girlfriend Jane Foster to defeat Gorr the Butcher God, who is trying to make the gods disappear.
SPECIALITY
"Big Eden" – (Comedy, PG-13, 118 minutes). Henry is a successful but lonely gay New York artist who must return to his small hometown of Big Eden to care for his ailing grandfather. There, he is confronted with the feelings he still has for his best friend from high school, Dean. 7 p.m. Thursday. (Ivywild School; tinyurl.com/3jzs77k9).
"Transformers" 15th Anniversary – (Action, PG-13, 144 mins). Only a teenager, Sam Witwicky, can save humanity when two races of robots who have the ability to transform into a variety of mechanical objects wage their war to find ultimate power on Earth. 7 p.m. Sunday (Cinemark Tinseltown, Cinemark Carefree); 3 p.m. and 7 p.m. Sunday. (Royal questioning).
IN PROGRESS
"The Black Telephone" – (Horror, R, 102 minutes). Rating: B-, Katie Walsh. A 13-year-old boy is abducted by a child killer and put in a soundproof basement, where he begins receiving calls through a disconnected phone on the wall. During the calls, he can hear the voices of the killer's previous victims.
"Elvis" – (Biography, PG-13, 159 minutes). Rating: A, Katie Walsh. The story of rock 'n' roll star Elvis Presley explores his rise to stardom and the changes he made to his music.
"Jurassic World: Dominion" – (Action, PG-13, 146 mins). Rating: B-, Katie Walsh. Now that dinosaurs live and hunt alongside humans, the question is whether humans will remain the primary predators on a planet they now share with these fearsome creatures.
"Lightyear" – (Animation, PG, 100 minutes). Rating: B-, Katie Walsh. As Space Ranger Buzz Lightyear attempts to return home, he is marooned on a hostile planet and encounters Zurg, who attempts to steal his fuel source.
"Minions: The Rise of Gru" – (Animation, PG, 87 mins). Rating: D, Katie Walsh. Before Gru became a master of evil, he was just a 12-year-old boy plotting to take over the world. When Gru encounters the Minions, they join forces and build a lair and weapons and attempt to begin their first mission.
"Mr. Malcolm's List" – (Comedy, PG, 115 mins). London's most eligible bachelor, Mr. Malcom has a list of what he needs in a brige. When Julia fails to meet the requirements , she is determined to get revenge.
"Top Gun: Maverick" – (Action, PG-13, 131 mins). Rating: A, Katie Walsh. After finding himself forming a detachment of Top Gun graduates for a mission that demands the ultimate sacrifice of those who pilot it, Navy Airman Pete "Maverick" Mitchell must face his deepest fears.
(Editor's note: Please contact individual theaters for showtimes.)
COMPILED BY CARLOTTA OLSON, THE GAZETTE