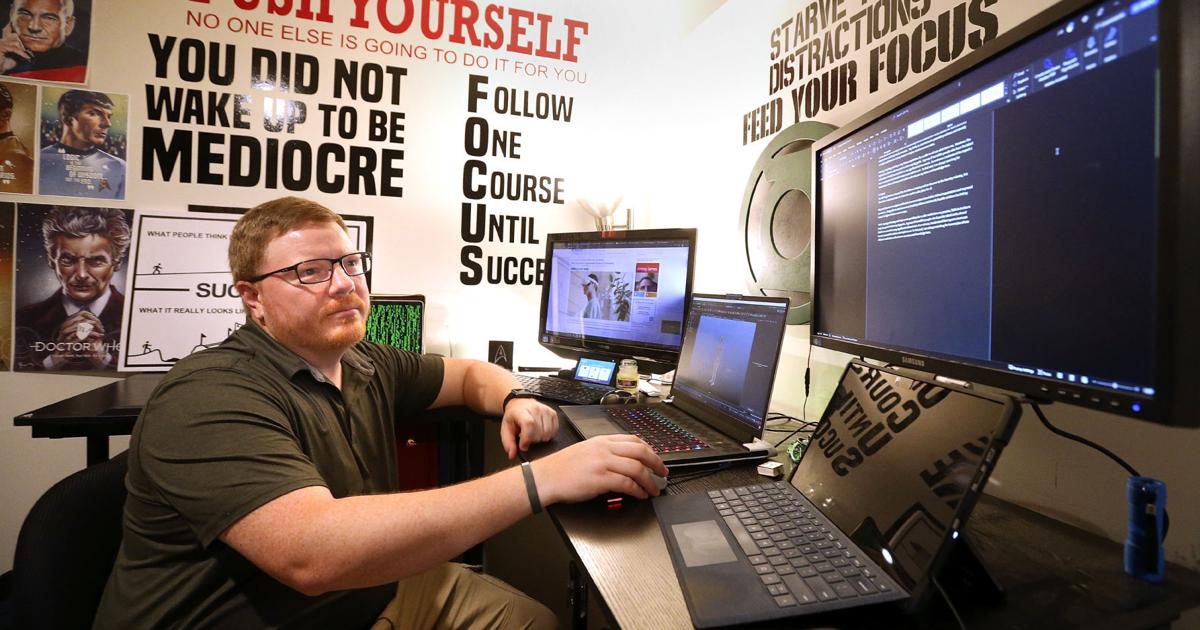 SCCF's S2V Program Boosts Local Entrepreneurs | Every day
Entrepreneurship is alive and well in the northern Shenandoah Valley.
That's the message local startups are ready to share regarding their experience with the Shenandoah Community Capital Fund's (SCCF) Startup Shenandoah Valley (S2V) program.
Since the announcement of the first cohort in December 2020, 13 startups from the northern Shenandoah Valley have participated in the program.
The program, which was originally funded in June 2020 with over $1 million in GO Virginia grants, includes one-on-one virtual coaching, tailored mentoring, and support on all aspects of running a successful business – such as raising capital, recruiting and retaining top talent, marketing and legal issues, among others. Participants will become part of a network of alumni of top Shenandoah Valley companies and a growing entrepreneurial ecosystem.
The most recent cohort, which ended in May, focused on tech-based startups.
AD Carter of Strasbourg, owner and operator of Retail VR, said the program helps focus on the small details that actually play a big role in the shopping process.
"These little ins and outs that no one knows is what keeps you going. Everyone only sees the results; they don't see what it took to get there. They see step by step, but they don't know the intricacies along the way," Carter said. "S2V actually made this step-by-step process much easier."
Most entrepreneurs in the program usually have a running business. They're probably looking for what to do next in marketing or how to maybe start a second location.
But the S2V program is not limited to functioning or thriving businesses. Entrepreneurs at any stage of the process are encouraged to apply.
JD Oldaker, who is still in the building phases of his company which aims to bring the world of virtual reality and therapy together, met with SCCF entrepreneurial ecosystem builder Ryan Hall at a tech event sponsored by the SCCF and pitched it a business idea.
This led Oldaker, who is also a military veteran and current student at Shenandoah University, to apply for the S2V program.
Oldaker said having both sides of the business startup spectrum represented in the program is helpful.
"Most of the program participants had a business that was developed and working. So seeing where they are at and what they're struggling with will prepare me for the future," he said. "Being able to lay out your problem or where you are at with your business and get feedback from a whole group was great. I think having about nine different sets of eyes on an issue is a huge benefit."
In addition to working toward navigating success, problem solving plays an important role in program efforts.
For example, Oldaker said he realized during the program that his original business name was already taken, sending it back to the drawing board. During that time, Carter said he learned how to better handle a situation he handled early on, where someone he knew replicated his business process and became a direct competitor.
"It will be very fluid in approach. As a startup, you have to know that you don't know everything," Carter said. "You're going to have some hiccups along the way.
With the latest technology-focused cohort, Carter and Oldaker said it's interesting to see each business owner's ideas and how they plan to implement — or are already implementing — this technology. and the process of its evolution.
Carter's Retail VR specializes in 3D modeling of businesses that can be used for marketing, mapping, facility management, emergency services and more.
Currently, he uses technology to market businesses on the main streets of Shenandoah County.
Oldaker, meanwhile, is working on using virtual reality to help mental health patients. Currently, he said virtual reality is used to help PTSD (post-traumatic stress disorder), anxiety and phobias, but he is more interested in childhood traumas that affect a adult over time.
Oldaker said seeing where everyone's business is at has helped him get a better overview of where he needs to go.
"Most successful companies have two people – the big idea guy and the developer. I know what areas need to be appealing to be successful, now it's about figuring out how to create that vision. I need to find a partner who will help me spread this to the world," he said. how to market it, how to build it and how to push it, those are things I learned during the program.
Those connected to startups generally carry some type of optimism, and members of the S2V program cohort were no different.
That same kind of optimism has been evident in the North Shenandoah Valley, especially during the COVID-19 pandemic, Carter and Oldaker agreed.
Not only has this translated into a positive entrepreneurial spirit, but it has kept families above water, they said.
"At the time, I was an adjuster in Northern Virginia and the Valley, and I loved working here in the Valley because the people of the Valley are resilient," Carter said. expect everyone to do it for them. They get up by their boots and start doing things. I can definitely say that the Valley is a place where people get things done. I appreciate that, and it lends itself to a strong entrepreneurial nature. "
The S2V program is currently accepting applications for Cohort 5, which will run from September 5 to October 27. Business owners looking to grow and expand their market in traded sectors are encouraged to apply.
"Submit an application. Don't guess it; just submit the application," Carter said. "Even if you don't get in, you better try. You're guaranteed to fail if you don't do anything. But you have a 50-50 chance of succeeding if you try."
For more information, visit sccfva.org/s2v/