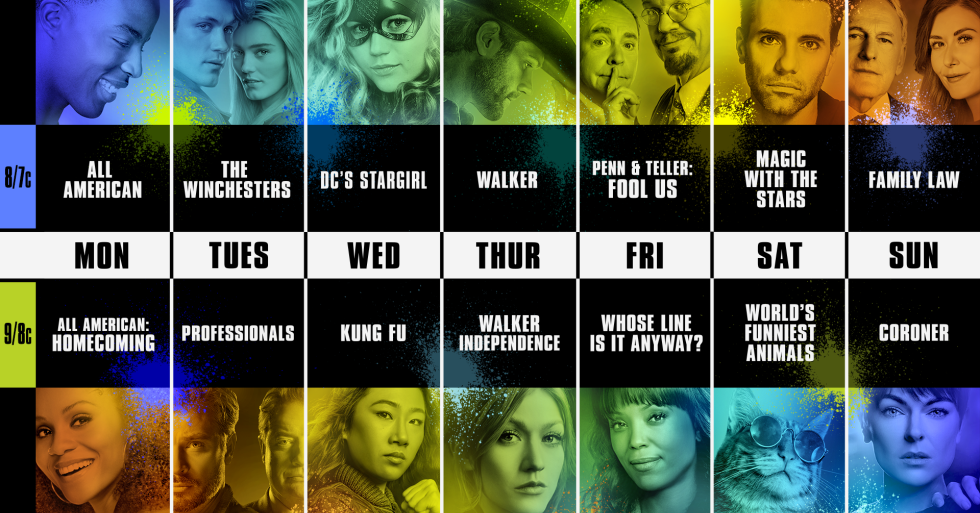 WCIU, The U | Mark your calendars for our Fall 2022 premieres!
By: WCIU Staff | July 6, 2022

Summer is flying by and soon fall will be upon us. The arrival of fall means beautiful colorful leaves, nice cool temperatures, and most importantly… new CW26 show premieres! Find out when your favorite CW26 shows are returning with all-new seasons and what new shows are joining the ranks, like the highly anticipated Walker and Supernatural prequels: Independence of walkers and The Winchesters.
Wednesday August 31
– 7P: DC's Stargirl Season 3 premiere
Sunday October 2
– 7P: Family law First in the series
– 8P: Coroner US premiere of season 4
Wednesday, October 5
– 8P: Kung Fu Season 3 premiere
Thursday, October 6
– 7P: Walker Season 3 premiere
– 8P: Independence of walkers First in the series
friday october 7
– 7P: ​​iHeartRadio Music Festival Night 1
Saturday October 8
– 7P: ​​iHeartRadio Music Festival Night 2
monday october 10
– 7P: all american Season 5 premiere
– 8P: All Americans: Homecoming Season 2 premiere
tuesday october 11
– 7P: The Winchesters First in the series
– 8P: Professionals First in the series
friday october 15
– 7P: Penn & Teller: fool us Season 9 premiere
– 8P: Whose line is it anyway? Season 19 premiere
Saturday October 22
– 7P: Chris Angel's magic with the stars First in the series
– 8P: The funniest animals in the world Season 3 premiere