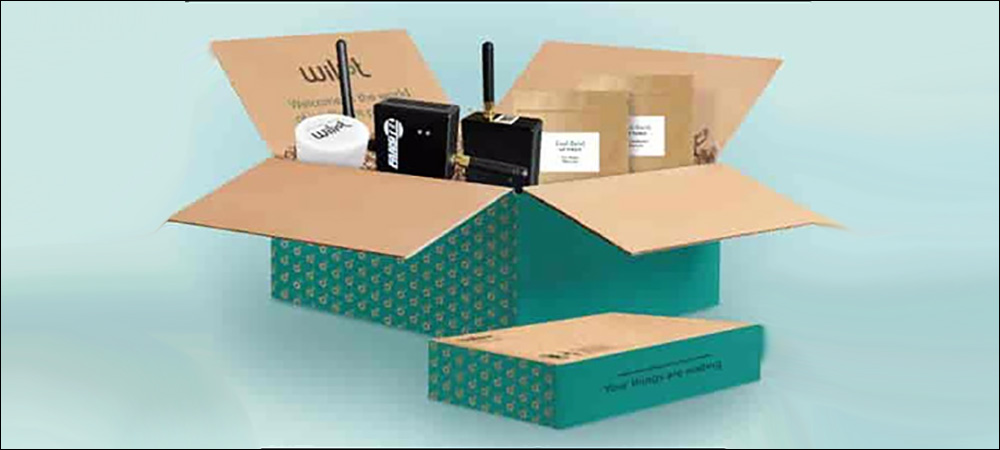 Wiliot builds a partnership program for passive BLE sensors
The company is preparing for rapid growth at the platform level by collaborating with solution providers and technology providers that leverage its postage stamp-sized sticky labels to track products, assets and real-time systems.
May 23, 2022Internet of Things (IoT) technology company Wiliot reports that it is moving forward with a growth plan that includes partnering with technology manufacturers and solution providers to help customers easily access the support they need for specific solutions or products leveraging Bluetooth Low Energy (BLE) passive sensors. The partnership, unveiled on April 26, aims to automate the process of connecting customers with solution providers, as well as helping them adopt and sell Wiliot technology. The program is known as Works with Wiliot (WwW).
Printing and labeling systems company SATO is a member of the program and has developed smart device solutions using Wiliot's passive BLE sensor tags to identify tagged items in refrigerators. Additionally, the software solutions company Tactical advantage offers real-time supply chain management and monitoring applications, while other members who have joined include To raise awareness, Digipal, Vision ID, MLINK, Blyot and Codegate. In April, Avery Dennison Smartrac also announced a partnership with Wiliot, whereby the global RFID tag and integrated circuit company will begin manufacturing tags using Wiliot's technology. Avery Dennison also intends to distribute Wiliot beacons and provide its own research and development support to create new applications for Wiliot's technology.
Wiliot aims to serve multiple industries with its IoT Pixel cloud-based software and sticker-sized battery-less sensors that transmit data via BLE, according to Steve Statler, the company's senior vice president of marketing. . The goal, he says, is to track everything at the item level, from returnable transport items and computer chips to food, pharmaceuticals and clothing. To accelerate new WwW partnerships, Wiliot has launched its Partner Enablement Kit, designed to help potential partners develop solutions. The kit includes one year of Wiliot cloud service, as well as IoT pixels, bridge and gateway devices, the Wiliot starter kit, and access to the company's community forum and support portal.
The company's software-as-a-service platform connects the digital and physical worlds, the company reports, by managing sensor data wirelessly. Its universal automation platform is designed to be easy to deploy and operate; businesses can simply drag and drop automated actions, triggered by detection events, while leveraging a library of existing enterprise applications. This follows years of development and deployments in large enterprises since the creation of Wiliot in 2017 and the release of its first products in 2019.
"We're growing," Statler says. "We started with a small number of very large companies, and it's clear that this platform technology can be used for thousands, if not hundreds of thousands, of different things." He says customers have indicated that a broad platform approach would be the winner, adding, "That's basically what this partner is posting. If we want to do more than one or two things, we have to do it with partners. ." Thus, the effort is underway to automate the partnership and connections.
Build partnership before growth
Already, the company has offered a partner portal and dedicated partner recruiting resources. "Our go-to-market approach has changed," says Statler, "from purely major accounts, directly, to recruiting a variety of different types of partners that will allow this technology to be very widely adopted." The company is now seeking partnerships with all members of the RFID and BLE ecosystem, he adds.
RFID tag manufacturers, for example, are building BLE-based passive tags with Wiliot's technology, using their existing RFID tag manufacturing process. This, Statler explains, offers alternative products that can be focused on BLE-based applications such as customer-facing data (tags can be queried via smartphone) or systems where low-cost beacon receivers would be more desirable. affordable than an RFID network. of readers.
Wiliot particularly targets system integrators and solution providers, Statler says, including companies that offer RFID and Bluetooth-based automatic identification systems. As part of the partnership, Wiliot will act as a broker, connecting these solution providers with customers or suppliers. "We will play the role of a kind of marriage intermediary between clients and partners," he says. Eventually, this will be automated on the company's website.
Automated brokerage for BLE or RFID solutions
Typically, according to Statler, when potential customers visit technology websites looking for partner companies, they tend to find generic statements about what those companies do. The Wiliot program will do more than that, he adds, by going deeper into the details so customers can discover and identify the best solution provider for their needs. "What we do," he explains, "is find the right person and make sure you actually reach the person you need to talk to."
Additionally, says Statler, those looking to become partners can use the company's evaluation kit to test a BLE data migration to their existing software. Wiliot will follow partners and work alongside them in their first projects, so that partners can familiarize themselves with the technology. Some RFID tag makers are among the interested partners, Statler reports. There are applications that lend themselves to BLE beacons, he adds, including systems by which items need to be tracked from production or harvest to consumer, with the beacons queried via smartphones.
"We see that there are very large [end-user] companies that have said they're adopting RFID," says Statler, "but they also see limitations there, and their ability to take advantage of both solutions and make them work together is really helpful. An area of ​​exceptional growth for Wiliot's technology, the company reports, has been tracking plastic crates used to transport items Passive BLE tags serve as a low-cost, battery-free way to obtain location data of these items and the goods loaded inside, based on data captured by cell phone readings or inexpensive beacon devices.
Management of returnable plastic crates
These plastic crates can travel from farm to store, as well as from store to a consumer's home. "We've seen RFID on crates and plastic pallets," says Statler, "but the challenge has been the cost of infrastructure, so [RFID technology use] is not widespread. I would say 99% of plastic crates are in the dark, offline, while 1% have an RFID tag, which basically uses a batch tracking mode." With BLE on every crate and the visibility the technology provides, he says, users can start saving money on crates, as well as what's in them.
One of the companies that has been part of the partner program is Tactical Edge, which offers custom software and data management solutions designed to reduce costs, optimize business processes and extend the life of systems. The Company's Total Visibility Anywhere (TVA) application is a real-time supply chain management and monitoring application that provides organizations with an accurate view of supply, distribution and transportation activities. The company is looking to bring flexibility to its solution, says Peter Vitale, COO and Founder of Tactical Edge, adding, "Wiliot beacons fill an important niche in tagging, tracking and identifying items throughout the the supply chain.
Vitale says the partnership "is extremely valuable, as it gives us the agility to cover the global supply chain in a cohesive manner and provides Tactical Edge with new opportunities to build the capabilities of the TVA system." The company's technology not only captures and manages the read data, he notes, but also seeks to determine the context of the movements, or lack thereof, as well as the meaning of that information.
Through the evaluation and processing of sensors and spatial data, reports Vitale, Tactical Edge brings new insights to Wiliot customers. For example, he says, using Wiliot for continuous warehouse inventory monitoring would be difficult and expensive with traditional item tagging solutions. "With Wiliot, we tag the material in the inventory and receive constant information on the position and availability of the material," he says. "This allows our customers to move to 'inventory by exception', which significantly reduces staff time and costs associated with cyclical inventory activities."
SATO, another member of the partnership, is one of the industry's leading providers of auto-ID solutions involving embedded printers and smart tags. Since 2018, the company has been developing solutions that leverage sensor tags under Wiliot's Early-Advantage Partner Program. "Working with Wiliot leverages SATO's expertise in Bluetooth, RFID [and] vertical applications," said Kazuya Hirata, Senior Director of Consumer Business Development at SATO.
The company has undertaken pilot projects and demonstrated the use of the technology over the past few years. "This is part of our efforts to spread the use of BLE technology by getting it recognized by consumers and other stakeholders," says Hirata. Because the beacons use Bluetooth signals that are present everywhere, he says, "I think the potential is huge, and I hope they will be useful in general goods, as well as in food."
Key points to remember:
BLE sensors are poised to provide item-level tracking of high-value and low-value merchandise, and Wiliot plans to encourage and meet this growing demand through partnerships.
Companies like SATO and Tactical Edge are developing solutions that take advantage of pad-sized passive stick-on tags to provide low-cost, wireless tracking of goods in transit, all the way to the consumer.
Exhibitors at LIVE RFID Diary! 2022 will offer passive BLE sensors. To learn more, visit the event website.